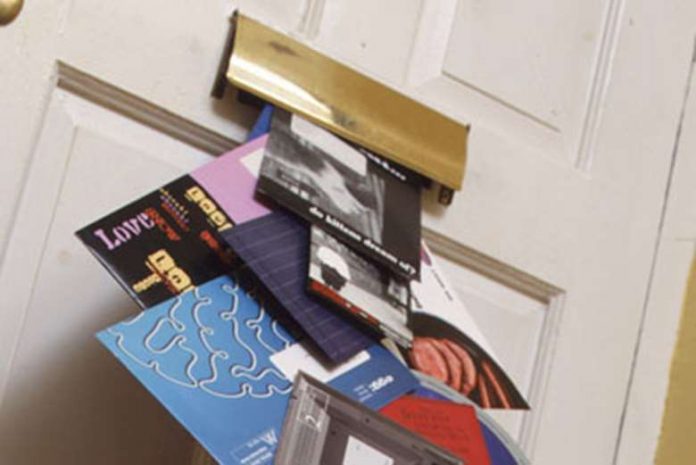 A raft of direct mail printers and experts have told Printweek that the sector could prove to be one of the industry's more resilient areas during the coronavirus pandemic.
While all corners of the print industry have already been impacted by Covid-19, some sectors have seen less of a downturn than others, and opportunities particularly exist for certain types of direct mail, such as business mail, as the situation continues.
Recently released findings from JICMail found that business mail shows the highest interaction rates of all mail types due to the personal relevance of its content to consumers.
The average business mail item is seen by 1.16 people per household, JICMail said. So for every one million business mail items sent, an additional 160,000 people in the household see that mail item. Furthermore, each business mail item is interacted with 4.64 times, with actions including opening, reading, and putting the mail piece on display, and passing it on to other people in the household.
Many direct mail specialists believe that with substantially more people at home than usual currently, it is likely that engagement with mail will increase even more during this period
Webmart chief executive and founder Simon Biltcliffe said the business has some customers who have recently sent out "hundreds of thousands of direct mail pieces".
"Just simply to say that 'we're here and we can serve you at home, you may not have used our home service before but it's here waiting for you'."
"[Direct mail] will certainly have more attention now from people than it's ever had in the past. People are at home and if something comes through their letterbox, they will look at it. Print will be a really strong medium for people to build their brand and build their awareness.
"If they can serve people in their houses, that's fantastic, and even if they can't, they can build their brand so that when normality does come back, in however many months that may be, then they've taken the offensive."
He added: "What you tend to find is that in moments of crisis, the brands that come out the other side really strong are those that advertise through it, and those that hold back on their advertising spend are the ones that weaken themselves."
Mike Roberts, managing director of PMG Print Management and president of the IPIA, said that while PMG is yet to see an increase in direct mail activity, the medium has a number of advantages over other forms of communication.
"The biggest advantage direct mail has at this time is that it is delivered directly to the home – whether in self-isolation, or laid off, it will deliver the brand's message directly to the consumer.
"People are also getting tired of screen time on devices, and also all the negative news, fake news around coronavirus that is online is seeing people starting to change their way of consumption.
"I believe companies should continue to advertise and promote themselves to demonstrate loyalty to their customer and to also make sure that their brand demonstrates a more caring side by communicating with their client at this difficult time."
Roberts noted that direct mail's resilience is however "very much dependent on the delivery service from Royal Mail continuing".
"It's not beyond the imagination to see the potential of the service being suspended if Covid-19 gets really, really bad," he said.
Judith Donovan, chair of the Strategic Mailing Partnership, said that in these difficult times, "direct mail has an essential part to play in keeping the wheels turning".
"Direct mail has key advantages right now. It ensures guaranteed messaging into every household – particularly useful when reaching out to those who are socially isolating.
"Crucially, it provides an antidote to social media which is falling over technologically and becoming particularly poisonous, with many consumers staying off the various channels accordingly.
"Every other crisis situation we have faced in my lifetime has been essentially economic. This has shown that consumers are fickle; it is foolish for companies to presume passive loyalty without active brand reinforcement."
Donovan also highlighted some of the various mailing techniques that could be employed by businesses at this time.
"Door drops, as a way of circulating large-scale communications, are simply brilliant. For instance, this method could help all those pubs and restaurants who are switching to takeaway and delivery. Partially addressed mail allows for profiling as well, if businesses want to make a segmented offer."
Many direct mail printers themselves have experienced a drop in work from some of their client sectors, but have reported buoyancy in others.
Patrick Headley, chief executive of Go Inspire Group, said: "We are still busy with critical communications in respect of the coronavirus and the bank interest rate changes. We expect to be running at around 66-75% capacity in April and feel this will be the same in May.
"Mail will be the best communication, there will be more internet activity which means more emails will be missed. Most people are at home with more time on their hands and this will make letters more penetrative than ever.
"With people not spending money on going out, they will focus on their home and it will be a massive opportunity for retailers to maximise this.
He added: "There is still money around, the government are paying many people even if they have been asked to stay at home. It is also imperative for brand awareness.
"Those brands that continue to market their products – whilst delivering reliable service – will be offering their customers continuity in these uncertain times, and will, I have no doubt, prevail."
Romax managing director Robin Sumner said that while his company has seen "a massive knee-jerk reaction" by businesses stopping most campaigns and halting projects or postponing them, this is not sector specific.
"Sectors that are immediately affected by the situation including travel, hospitality and entertainment have literally shut and are not sure when they will restart," he said.
But he cautioned that while, technically, direct mail should have a greater ability to reach people during the current situation, "the issue is that nobody wants to buy non-essential items currently as they are in fear for their livelihoods and would rather have food".
"This is basic human nature. I do believe as time goes on that the current panic will become the norm and people will start to get bored at home and seek some 'solace' in home shopping; this is where direct mail can have a big impact.
"Website visits are driven more by direct mail than most other marketing routes, and physical print provides reassurance – particularly for seeking out new business – to potential markets."
He added: "The best time to market to people is when others are not. Usually the first cuts made are around marketing; this is sensible for imminent events, but for brands that rely on longer term business growth, continuing to communicate with their clients is critical.
"After the initial panic subsides and the society accepts the 'new normal', then trade will return swiftly – those that have continued to promote during that time will be ahead of the curve."