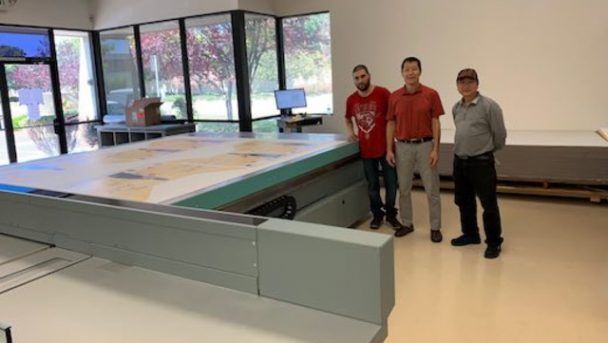 Headquartered in the San Francisco Bay Area, print service provider A&M Printing, Inc. saw an immediate growth in their business after adding the capability of printing on corrugated boards with the exclusive high flow vacuum table on the Fujifilm Acuity F series high productivity UV flatbed printer.
As the digital large format print business continued to increase due to more customization and shorter runs, A&M needed to address current customer needs for larger runs on corrugated boards. The Acuity F67 with a double bed supplied A&M additional print capacity with higher speed. The Acuity F is the most productive printer in the renowned Acuity series with a maximum print speed of over 1,600 square feet per hour activating six printheads per color channel with a total of more than 27,000 nozzles.
Five years ago, Leo Lam, A&M's president, saw growth in their clients' need for large format print related to trade shows, POP graphics and winery promotional items. Lam partnered with Fujifilm for his first Acuity flatbed solution because of the quality products and high level of support he's experienced as a Fujifilm customer of more than 20 years. "We are successful because of partners like Fujifilm. You have to work together in order to be able to succeed."
"Before we bought the Acuity F67, we actually had to run three shifts around the clock in order to keep up with those demands," said Lam. "It's amazing how fast we can turn around projects now with the F67. Without this machine, I would never be able to keep those orders and make my customers happy."
This is the first Acuity F with a high flow vacuum table installed in the U.S. The high flow vacuum provides more than 15x the standard airflow, and is engineered to draw down and hold down distorted, warped sheets of rigid media like corrugated boards. Its pneumatic registration pins minimizes operator involvement and allows for quick, easy and accurate positioning of material and loading in perfect register, maximizing productivity.
A&M prints on multiple types of corrugated boards with different flute and board sizes. "Some materials come in really warped, curvy or curled. It's so inconsistent," added Lam. "I can't say enough good things about the high flow vacuum table on the F67. Typically we just throw the material on the bed, push a button and then zoom, it just pulls it down and we print." The high-flow vacuum also eliminates the need for taping materials down, making the printing process more productive and efficient.
The Acuity F allows print service providers to select the right production speed and image quality to produce close view to display print. The addition of white ink further extends the application and media range to include clear and colored substrates, adding versatility to this already powerful printer. The Acuity F Series maintains all the advantages of the Acuity platform, including near-photographic image quality, versatility and ease-of-use, but has been optimized for the efficient and high speed production of rigid media applications.
"The expectations are high for speed and turnaround time because a majority of the projects we handle for our customers are time-sensitive," said Lam, "High output quality is definitely an expectation, and the Acuity F gives us the speed, as well as the quality. Fujifilm hit it right on."
Lam said A&M Printing prides itself on having an experienced, knowledgeable staff, each having been with A&M for more than 10 to 20 years, contributing to the importance of focusing on high-level customer service. "It's the people, how they interact with the customer and how they understand the projects. We give them ideas, suggestions and implement our expertise to help them out. And that's how we keep the customers coming back to us."