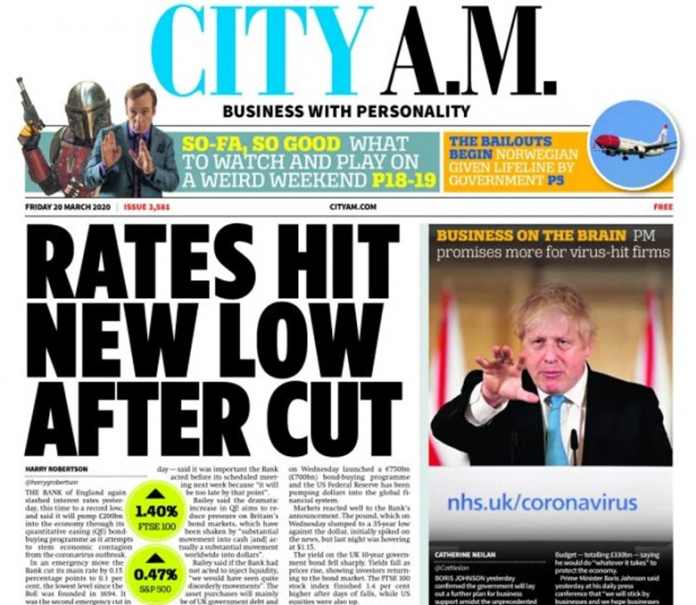 London-based free financial newspaper City A.M. has temporarily suspended its print edition due to the coronavirus outbreak.
The title's readership of mainly commuters has deserted the capital following government advice to work from home where possible and avoid all non-essential contact and travel.
In a statement issued late (19 March), City A.M. Media Group said: "Following Friday's edition [20 March] City A.M. will temporarily suspend its print operation until our readers start returning to the capital."
It added the digital edition would be available on its website, "as it always has been".
While the group is not making any redundancies, it said it has implemented cost-cutting measures, which include asking its entire staff, including management and reporters, to take a 50% pay cut next month.
City A.M. had a certified distribution of 85,982 copies a day in January 2019, according to newspaper ABCs.
Press Gazette quoted an email to staff from City A.M. chief executive Jens Torpe who said most advertisers in London are cancelling bookings, meaning the paper has "no income to pay for our costs".
Torpe added the print operation would be resumed "as soon as it becomes viable to do so".
Meanwhile, in the US Playboy has shut down its print operation for the remainder of 2020 due to the coronavirus outbreak. The spring issue of the magazine, which will now be the last to be published this year, is out this week.
In an open letter posted on Medium, Playboy Enterprises chief executive Ben Kohn said the magazine will move to a digital-first publishing schedule for all of its content for the rest of the year.
"In 2021, alongside our digital content offerings and new consumer product launches, we will bring back fresh and innovative printed offerings in a variety of new forms – through special editions, partnerships with the most provocative creators, timely collections and much more.
"Print is how we began and print will always be a part of who we are."