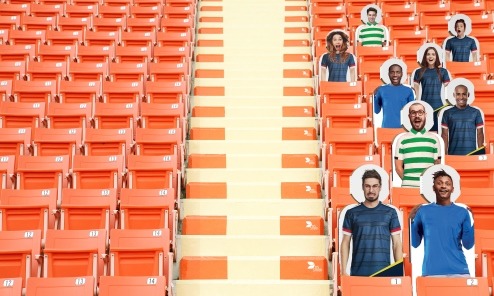 The German Bundesliga and Italian Serie A football leagues have recently resumed their seasons, and have provided a glimpse to how professional football will look and feel in empty stadiums due to the Coronavirus pandemic.
With average weekly attendance around 40,000 fans in England's Premier League alone, DS Smith has developed its 'Return to Sport' range, a series of customisable and fully recyclable cardboard cut-out fans mimicking crowds to help create some atmosphere.
Each bespoke 'fan' is made from recycled materials and designed to easily slip over existing stadium seating.
With DS Smith's digital print, the range can be custom printed to celebrate individual fans' faces or messages of support and represent team colours, sponsors or charitable partnerships.
The range is scalable from a lone fan to a full house of up to 100,000 fans, produced immediately.
Due to the durability and recyclability of the cardboard materials, individual fans can be gifted or auctioned to fans eager to have a piece of the action or put into the local recycling system via DS Smith's own curb-side collections.
James Lomax, football fan and sales, marketing and innovation director at DS Smith, said: "DS Smith likes to see itself as a box to box midfielder and we're ready to spring into action as the Premier League and Championship both get back underway. Sport is an integral part of many people's lives and by using a versatile material like cardboard, we can support clubs across the country to create a unique atmosphere while fans stay home to support social distancing. Our 'Back to Sport' range is the ideal sustainable solution providing clubs with a blank canvas that can be fully customised, while also ensuring the material can be reused or recycled."