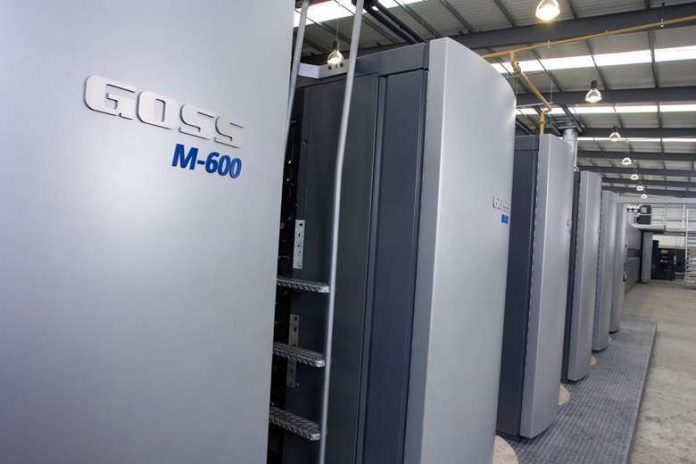 Manroland Goss Web Systems has completed the integration of its product lines, with the once ground-breaking gapless Sunday press series and popular M600 16pp web now consigned to the history books.
However, the Augsburg-headquartered manufacturer emphasised that support for existing customers would not be compromised.
Theo Buchmeyer, vice president for business development and product management, told Printweek: "In a merger there are some things that will stop, some things that will continue, and some things that will be merged into a new product.
"We won't produce Sunday presses anymore but we look at the knowledge we have on the Sunday and will certainly be using that on our Lithoman, and the same goes for the M600," he said.
MGWS is also using 3D printing technology to make parts that are not available from stock.
"We are supporting those products. After-market is an important part of our turnover," Buchmeyer added.
"There is not one press or part that we cannot support. We are not abandoning any customers."
Prior to the merger of Manroland Web Systems and Goss in 2018, Buchmeyer was managing director at Goss International Europe.
He also said that technology from the Goss Vpak packaging system had been integrated into the new Varioman range with models targeted at flexible packaging, carton packaging, and book printing.
"We have improved the Varioman with knowledge from the Vpak. For us, packaging is really a market we are pursuing. We have decided we will make that a success and the product range is extremely important to us."
The first Varioman F:line is up and running at an unnamed customer in Europe, with a second install in the works for carton printing.
The MGWS commercial web press range now encompasses Rotoman, Euroman and Lithoman models in formats from 16pp-96pp.
YM Group is the biggest user of Sunday press technology in the UK, with a 48pp Sunday 4000 at Pindar, a Sunday 4000 running reel-to-reel at Lettershop, and with YM Chantry home to the 64pp short-grain Sunday 5000 press that came from Polestar's failed Sheffield supersite, as well as the old M4000 from Polestar Colchester.
Walstead also has an ex-Polestar Sheffield Sunday press, a giant 96pp model that was installed at its Rotocobrhi site in Spain.
The Polestar Sheffield site (pictured below during installation) had two 96pp Sunday presses and a 64pp.
A number of UK customers run M600 16p webs, including Go Inspire Group, Paragon Customer Communications and Prinovis.
There are more than 450 M600 presses installed worldwide, and more than 300 Sunday presses.
Buchmeyer said that while the overall market for web offset and newspaper presses was a fraction of what it had been in its heyday, MGWS was determined to continue to be "a solid partner" for customers.
"30 years ago this was a $3bn market and it's now probably 10% of that. We have decided we will survive and be the last man standing. That is our credo. We are web offset and we don't do anything else," he asserted.
The newest MGWS press in the UK is at Warners Midlands in Bourne, which completed the installation of a 32pp Lithoman earlier this year.
Some of the MGWS intellectual property is shared with Goss Graphic Systems (China), which sells its own web presses under the Wisprint brand.
The 'Sunday' press name came about because the US-based engineers that came up with original idea in the 1980s did so over the weekend of Super Bowl Sunday.
MGWS has operations worldwide and employs around 1,000 staff.
Its newspaper printing range is made up of the Cromoman, Uniset, Geoman and Colorman product lines.