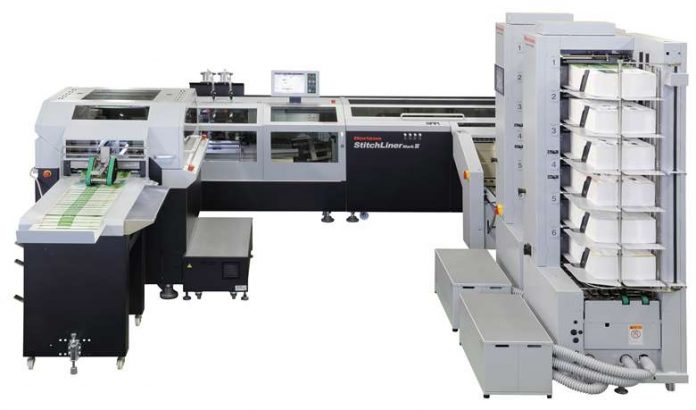 Horizon has launched a bespoke virtual demo service with UK agent Intelligent Finishing Systems (IFS) already hosting a number of customer sessions via live links to Horizon's flagship facilities in Germany and Japan.
The digital post-press manufacturer launched the service, which has to be pre-booked, to enable businesses to fully evaluate Horizon technology remotely and ensure their operation is best positioned for the post-lockdown landscape.
The full range of Horizon equipment, including bookletmakers, perfect binders, folders, creasers and trimmers is available for demos, including yet to be announced machines that had been slated for Drupa release.
IFS managing director Eric Keane said the firm had already run virtual demos at Horizon's European facility near Hamburg and the Horizon Innovation Park at its main facility in Kyoto, Japan – where one session featured a head-to-head demo of two binding lines.
"It gets better every time we do it, and now we're thinking we can do more demonstrations for more people more often," said Keane who said the flexibility of the format really appealed to customers.
"We've had one-to-one private sessions, group sessions with different companies, or group sessions for organisations with multiple sites. I think while travel will get easier, I think these video demos will be around for a long time."
The fully interactive sessions are hosted by IFS and a demonstrator in Japan or Germany, sometimes both, and socially distanced camera operators. During the demos customers can ask questions, request close-ups, supply work, and receive a recording of the demo to share with colleagues or reevaluate at a later date.
"So, they can ask us to explain something in more detail, have a closer look at, say, the feeder or input channel – so its no different from actually being at a live demo, you can interact as much as you like," said Keane.
He added that the firm is also trialing virtual and augmented reality elements in some demos.
Keane said that IFS, which became an EOT last year, had continued to sell machines through lockdown as companies look to invest in new technology to improve efficiency, add new product types or automate processes to enable workplaces to be more Covid secure.
"We had 12 contracts that hadn't been fulfilled at the time of lockdown and not one of those has cancelled, additionally we've also sold bookletmakers and a MK III during the past three months. We restarted installations in the beginning of June and we've been busy since then."
He said with a significant number of new Drupa innovations from Horizon and some of IFS's other manufacturers set to be announced soon, he expected business to continue to ramp-up.
"We're fairly confident that the key companies will continue to invest, if they're going to be busy in the market and continue to go forward and be more competitive then they know that they will have to invest. There was such a hiatus of investment because of Brexit and then that was held back for Drupa and although that will be a little slower, I think it will still come through.
"If you look at past recessions, getting money [finance] was the problem, getting money is not the problem at the moment.
"If people have got their head screwed on and a good plan, they can do well."