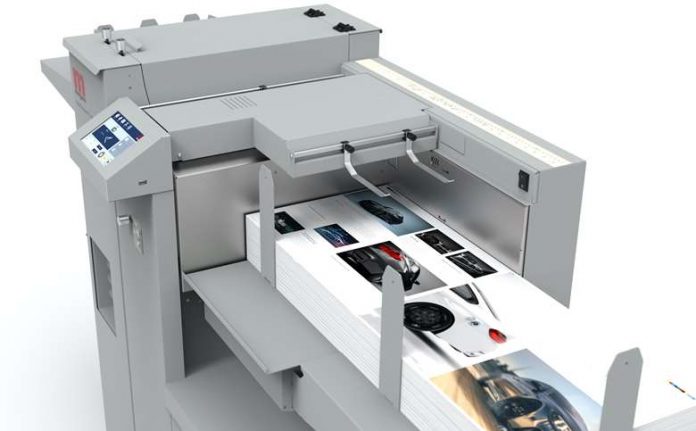 Morgana has expanded its AutoCreaser range with a new highly automated flagship model as the creasing family celebrates its 20th anniversary following its launch at Drupa 2000.
The new AutoCreaser Pro XL, which was due to be launched at this year's Drupa, features a raft of new features, at the centre of which is a new vacuum feeder with Adaptive Process Control (APC) which monitors sheet float and adjusts in real time.
"It's a cracking machine," said Ray Hillhouse, VP sales and marketing for Morgana parent Plockmatic Group.
"APC makes it a very intelligent feeder. It has a sensor on it that monitors the separation of sheets as they come up the pile and makes adjustments to the height of the table and the vacuum."
Unlike previous Morgana machines, the Pro XL feeds from the top of the pile rather than the bottom, which Hillhouse said enables it to handle even lighter digital stocks.
The 8,500sph device can place up to 30 creases per sheet with minimum crease-to-crease distance of 0.1mm. Like the rest of the AutoCreaser Pro range it features rotary perforation as standard, but it also boasts an enhanced GUI that enables three-step job set-up.
User friendly set up and operation was a key aim for the new creaser, and its new GUI will be rolled out across other Morgana machines.
"The real goal is that more than 90% of the work coming though the machine can do so with no adjustments and be handled by the automatic settings," he said.
"There has now been close to 10,000 units of all versions of this market-leading family of creasers sold since the original in the year 2000. With this new addition we can show that the ever-reliable creaser simply gets more versatile, easier to use, and above all more productive."
The Pro XL can handle sheets from 93x210mm to 385x700mm, which can be extended to long sheet formats up to 385×1,300mm with an extension table for long sheet formats, which comes as standard for the first time.
The new edge-registered feeder, which has a maximum pile height of 200mm can handle substrates from 80-400gsm and while rotary perforation comes as standard it can also be configured with an optional cross perforation unit.
According to Hillhouse, pricing for the new Pro XL will be between £15,000 and £16,000 depending on configuration.
The AutoCreaser Pro XL can also be linked to Morgana's Autofold Pro, which uses highly accurate flying knife technology, for an automated crease/fold line that can fold and crease across the sheet.