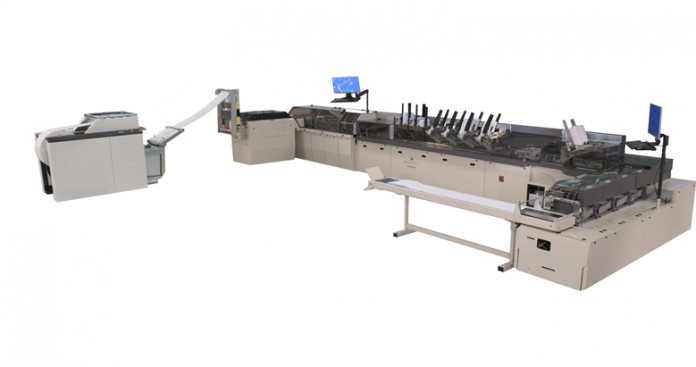 Mailing kit manufacturer BlueCrest has launched a new, highly automated entry- to mid-level inserting line that has many of the flagship features of its high-end siblings.
The highly modular Evolution, which had been due to be launched at Drupa, can handle cut sheet, continuous form, single, or dual document formats dependent on requirement.
According to Guido Rietti, BlueCrest's UK and Ireland vice president, the Evolution "is a modern, innovative system, designed and developed with input from our clients".
"We leveraged the same proven concepts from the Mailstream Productivity Series and Epic, which both became global best sellers in the high-volume inserter market."
It uses BlueCrest's Direct Connect operating system and runs file-based processing along with a range of readers, including OMR, Barcode, 2D, and OCR, to maintain mailing integrity.
Rietti described the Evolution as "a multi-format inserter ideal for both low and mid-volume mailers running high page count jobs, short-run jobs or needing extra capacity during peak times" that is "an ideal replacement for older, legacy systems".
It can process up 12,000 cycles per hour trifold, 10,000 half-fold or 8,000cph for flats. Product specifications and can be configured with between three and 18 feeders.
It uses BlueCrest's automation technology for fast makeredies and changeovers, which minimises operator intervention and down time.
According to Rietti its "ergonomic configuration", which includes a repositioning of the envelope feader, also offers an "increased mail piece per output, per square foot" which offers users a low total cost of ownership.
He also highlighted that its modular design meant that extra features can be retrofitted.
Dependent on configuration, pricing for the Evolution starts at around £150,000 rising to £400,000 for the highest possible spec.
Earlier this year, Adare SEC installed five new BlueCrest inserters, three new Epics and two additional Mailstream Evolutions.