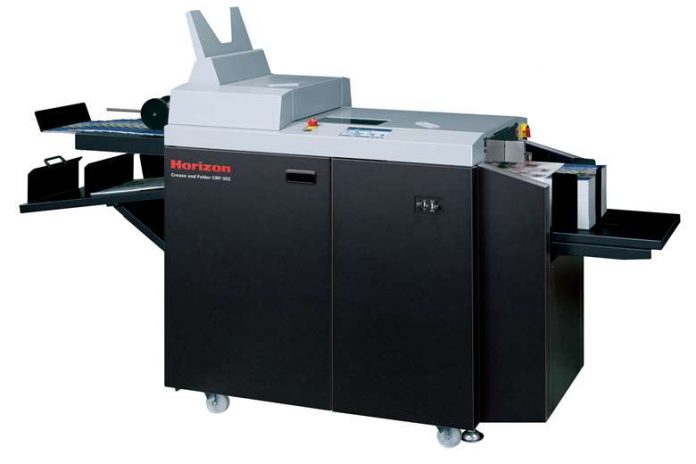 Emmerson Press has invested in a Horizon CRF-362 creaser folder to streamline its digital print production and support increased flexibility.
The machine, which was supplied by Intelligent Finishing Systems (IFS), was installed at the Kenilworth-based firm's site in October.
Jamie Emmerson, director of the B2 commercial printer, said: "We visited Horizon in Germany three years ago to see the Horizon StitchLiner but while we were there the folder creaser caught our eye. We liked its ability to fold inline which saves time."
The business had been running an old B2 creaser but it wasn't keeping the product square, so Emmerson later visited Leicester-based Flexpress to see the system in operation.
"When I got there the machine needed calibrating because it had hit the million mark. It was impressive that they had produced so much work without it needing any attention. It showed me just how reliable it was.
"It was well built and could run all day. The results were very neat, good quality and completed very quickly. We also liked how easy it was to use. We could see that if we needed to jump on it to produce 100 cards we could do so easily."
The Horizon CRF-362 creases and folds in one pass a wide range of light- and heavy-weight stocks, coated or uncoated.
Capable of up to ten crease lines on a sheet, it uses an impact scoring technology that eliminates or minimises cracking of the stock or printed image. Set-up and changeovers – including fold pattern, creasing number, and up/down crease selection – are completed on the high-resolution colour touchscreen.
"It only needs to save us an hour a day to justify the machine and it is already doing that. We are very happy with it," said Emmerson.
Founded in 1981 by Brian Emmerson, the business operates a five-colour Heidelberg Speedmaster XL and a Fujifilm Jet Press 750S, which was installed last year. The company's 15 staff turn over £2.5m.