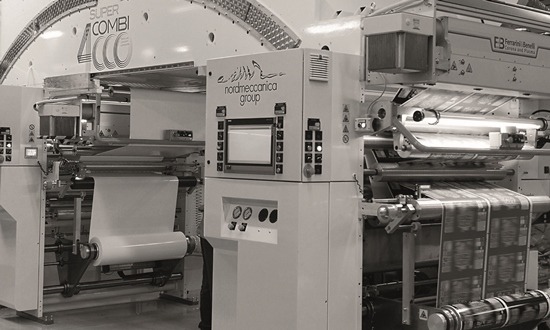 Flexible packaging specialist FFP is continuing to make investments at its Northampton-shire site as it recovers from a competitive period in the food market.

The company was the first to market with a fully printed oven bag for chicken, something almost taken for granted nowadays.
"It was difficult over the last two years. Competitors caught up and there were many options for customers so FFP suffered," explained David Cooper, managing director and chief executive of FFP Packaging Solutions.
The £20m turnover, 110-employee company has ambitions to reach £30m within five years, though this is not a hard and fast goal.
It has recently launched new sustainable packaging products, including a paper pouch.
Over the last 18 months the company has invested £1.5m in capital equipment – lamination capability in particular – resulting in improved capability and capacity.
It has doubled capacity for pouch making, with in-house pouch capability through a new machine.
FFP has also invested in re-seal capacity, to cater for the growing demand in reseal applications and its 'widely recyclable' re-seal and recycle range of products – paper pouches, all PE high barrier and standard barrier products, the Esterseal 'widely recycled' pouch, and retort flexible packaging.
"That's a market we are looking to break into in 2020," said Cooper.
"We saw an opportunity to leverage our vast technological experience and expertise around sustainability and bring new products to market that could be recycled, reused and reduced through existing infrastructure. We see this as a key part of our growth in the next few years."
He told Packaging News FFP is developing the first UK-produced retortable flexible packaging.
"Pouches are the fastest growing market within flexible packaging."
FFP produces plastic pouch with an all-PE material which can be fully printed and available with high barrier – FFPE Pouch.
This can be recycled within deposit return schemes in stores, but can't be put in to green bins.
The paper pouch it is producing can be put in kerbside collection – but has its limitations with durability.
Cooper added: "There are compromises with everything. It won't have as much strength as a plastic pouch. It lacks tear-strength and puncture resistance. It is laminated to cellulose – the paper itself is durable."
He added that the cost of buying a paper bag versus PE bag is a "significant difference", and that having paper available on an industrial scale is also questionable for the mass market.
Additionally, Cooper showcased the Esterseal – which he said is the first lidding solution that has been approved in the UK by OPRL as 'Widely Recycled' and can therefore be collected with pots, tubs and trays at kerbside.
"Normally film has to be removed. The tray can be recycled but film can't be. But Esterseal's lid is an inherent part of the tray, and has been tested by Viridor. It has a peelable and resealable lid and survives with the tray.
"The difference is the way the film is sealed to the tray – the average container has peel seal that's glued, Esterseal is a different technology."
He also lamented the adverse publicity surrounding plastics. "We are still seeing a negative effect on plastics. We have tried to embrace it but it still impacts people's buying decisions."
Cooper added that the changing landscape in UK retail space is a factor in the industry.
"The food retail sector is one of the most complex, sophisticated and fast moving. Aldi and Lidl are definitely having influence of the strategic direction of the 'Big Four'. These discounters have quicker innovation cycles."