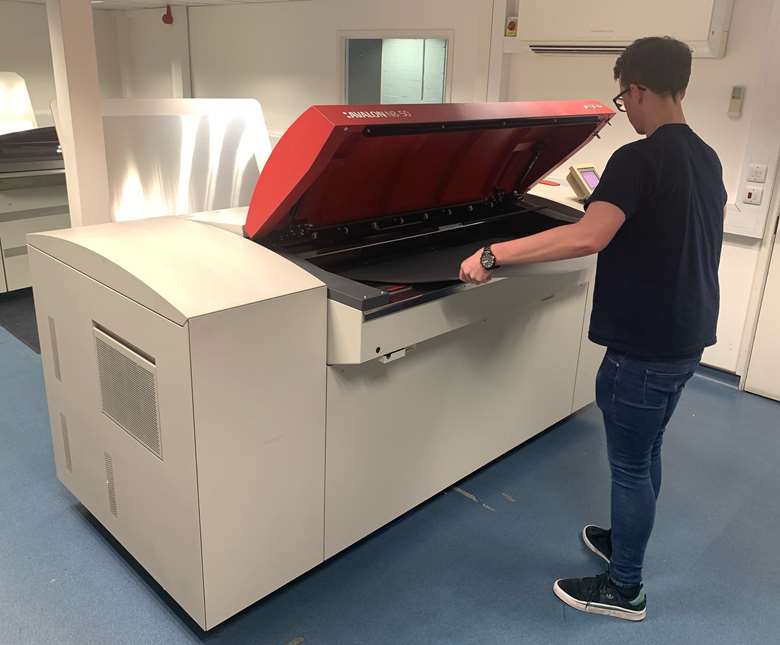 Jaymar Packaging has upgraded its platesetting after taking delivery of a secondhand Agfa Avalon N8 engine.
The B1 pre-press system, which was installed in August, has been brought in to replace an existing Screen PT-R 8000 at the Crewe, Cheshire-based business, though this device will be retained as backup.
It was purchased from Dennison Group, which then sub-contracted Prepress UK to provide a pre-press audit, software upgrades and calibration of Jaymar's two Manroland R700 B1 presses.
Jaymar production director Gary Marsh said: "At Jaymar we pride ourselves on working to exceptionally short lead times. With our ageing Screen unit we could see potential issues in the future should the CTP fail.
"We tasked Dennison Group to find us a newer CTP in order to prevent any delays for our customers. We went for the 'belt and braces' approach by installing the Agfa unit alongside the Screen unit, giving us reliability, capacity and backup."
Jaymar's relationship with both Dennison Group and Prepress UK goes back a number of years.
Dennison Group managing director Roy Milner said: "With spares becoming ever more difficult to obtain for the Screen unit, we were delighted to be able to assist longstanding customer Jaymar. The refurbished Avalon is the ideal CTP solution for this busy packaging business."
Prepress UK's first task was to ensure that the pre-press computer systems were up to the job of serving files to the high-speed Agfa device.
After remotely auditing the existing system, Prepress UK recommended two Xitron RasterBlaster Pro systems. This software was installed on Prepress UK custom built, high-end Windows 10 Pro PC's incorporating RAID1 hard disk plate archives to ensure total system backup.
These systems were then linked to the latest Xitron Navigator 12 Harlequin RIP, again running on a bespoke Prepress UK built PC, eliminating older, unsupported computer platforms that Prepress UK said were both security and failure risks to Jaymar, as well as performing well below current standards.
As part of the audit process, Jaymar identified pinch points in the pre-press file preparation that added unnecessary complexity to its processes, so during installation Prepress UK was able to implement changes to accommodate a simplified pre-press process, allowing jobs to more easily be repurposed between the two Manroland presses.
After the CTP and pre-press installations were completed, dot gain calibration of both presses were established and fed into the system to allow Jaymar to move further towards its desired ISO 12647-2 colour standards.
"Being able to turn jobs round quickly on its own is not enough to secure continued custom. Here at Jaymar we are heavily focused on quality," said Marsh.
"By calibrating both CTP units and finger printing both presses for UV inks and conventional inks we feel we are in a strong position to maintain and improve our reputation for best quality print within the industry."
Established in 1977, Jaymar Packaging specialises in designing and manufacturing bespoke cartonboard packaging products for a wide range of SME and blue chip industries.