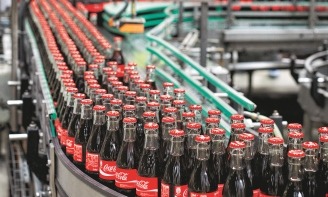 Next year will be a year of two distinct halves for the soft drinks industry, according to the general manager of Coca-Cola European Partners (CCEP).
Stephen Moorhouse, general manager, Great Britain Business Unit, CCEP, said larger packs have been popular for sharing at home over the pandemic, boosted by online shopping.
"2021 will be a year of two halves I would say. The trends we are seeing in Q3 and Q4 – with these lockdown restrictions coming in/coming out, we can all hypothesise about what that looks like but I think we will see more of the same in the first half of next year."
Moorhouse and his colleague Amy Burgess (senior external communications manager) said CCEP expect the impulse sector to reboot in the second half of next year.
"As we move further in to 2021 and the vaccine becomes more readily available, people feel more confident leaving the house, we'll see the sales of on-the-go packs increase," said Burgess.
Moorhouse added: "I am convinced those opportunities will come back," and said for the first half of 2021 the brand should ensure take-home packs are as affordable as possible – there are already reduced RRP on various 500ml packs.
He would not be drawn into the latest developments regarding CCEP's non-binding proposal to acquire the Coca-Cola Bottler for Australia, New Zealand and Indonesia Coca-Cola Amatil.
The £4.8bn proposal was made in October and Moorhouse said any developments would be announced in the new year.
CCEP has not lost its sustainability focus since the pandemic, he also insisted. "We carried out our commitments around sustainable packaging, In Sept we announced we had moved our entire portfolio of recycled PET into 50% of recycled PET – that's on the back of Smart Water last year moving to 100% last year as a brand."
He said it was important to continue educating consumers about recyclability, and work on collection schemes to ensure more PET is available.
"All of this is working towards getting that 100% circular economy. As CCEP we need to put ourselves out there, looking to get to Net Zero by 2040."
Julian Hunt, vice president, public affairs and communications, GB, CCEP, said it was important to communicate about packs and sustainability to consumers, and alluded to the 500ml packs that have Recycle Me messages on caps.
"We know that really simple changes on packs have a kind of surprising but reassuring positive impact. It's amazing how that has really cut through and resonated with consumers. And all of our 50% recycled PET packs have got a message as well – not only explaining that but encouraging people to recycle.
Hunt added that the impending roll-out of the Deposit Return Scheme (DRS) in 2022 would require a lot of work from the sector, and he welcomed a UK-wide DRS.
"DRS is one step to really help improve recycling in this country and getting us towards that 100% circular economy for drinks packaging. It is also going to become a reality we think in England and Wales possibly by 2023 which is the public target, more likely 2024 we think."