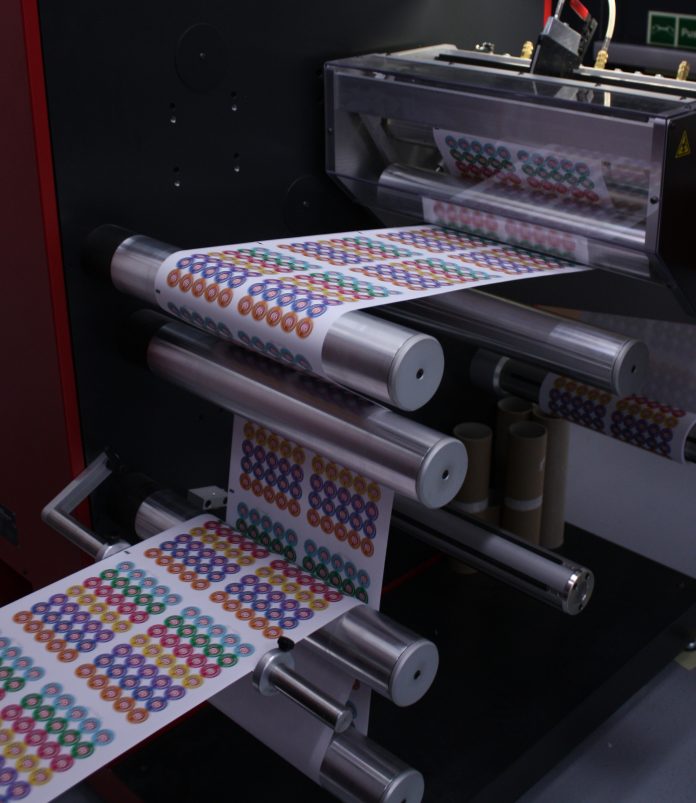 Xeikon has announced that Sticker Gizmo and School Stickers, based in Redditch UK has invested in a Xeikon 3030 REX, entry level, factory refurbished, digital label press. This young B2B brand is a 'go to' online site for customised and ready-made labels and stickers in almost any shape and any material – from laminated and foil effect labels to recyclable paper labels and magnetic vinyl stickers – for a wide variety of uses from window stickers, signage and POS and marketing to packaging and party-favours and games, stationery and personalised gifts. Sticker Gizmo provides the educational sector with a number of unique products.

The Executive Chairman of the Redditch-based business, Alistair Tillen, takes up the story: "School Stickers is the leading brand in school rewards in the UK selling both printed rewards and software. We have a strong technical pedigree and developed software to link physical printed rewards to an online experience which really adds a unique angle to our education proposition. We launched our B2B brand, Sticker Gizmo, about 18 months ago as we were keen to expand into new markets. We used our technical skills to develop our own online design tool and pricing engine and we have been really pleased how this part of the business has grown".
It quickly became apparent that Sticker Gizmo needed to expand its printing capabilities to compete on larger and quality creative orders. Tillen continues, "We embarked on a period of research where we looked at several different options including outsourcing. In the end we decided it was important to own the whole customer experience and be solely responsible for quality and delivery times. We were keen to invest in a machine which would help us expand and keep pace with our aggressive growth plans. A Xeikon machine was always near the top of our list but when we found out about the factory refurbished REX machines, we knew we had found the right solution for us."
Jeroen Van Bauwel, director of product management explains the concept of the REX programme: "Every Xeikon REX digital press has been updated to the latest revision of both hardware and software. Used for demos or sold to the commercial market by Xeikon, these presses have been supported throughout by Xeikon engineers, who know the 'ins and outs' of each press regarding it's age, usage, and service history. Every press considered for the REX program goes through a detailed technical "condition scoring" examination. Our factory engineers then replace and optimize every critical component required to extend the life of the press and ensure perfect print quality – making it ready for many more years of production. Only after going through extensive testing and upgrading to the latest Xeikon versions and standards, is the product boxed and shipped to the customer."

Xeikon's 3030 REX digital label press can print on substrates up to 330mm wide and up to 9.6 meters per minute (31.5 feet) at a true 1,200dpi. This equates to around 190 square meters per hour. Printing on standard substrates with no need for pre-coating, the press uses Xeikon's environmentally friendly, dry toner technology, which is water resistant and has a high light-fastness for outdoor work. The machine was installed at Sticker Gizmo's Redditch site less than three months ago in August and already the company is beginning to see its business changing for the better.
Alistair Tillen says, "We are already seeing the benefits of the speed and width upgrades on the Xeikon machine with improved productivity helping us to cut delivery times to our customers. We are also delighted with the print quality and have started to benefit from lower substrate prices as we move away from pre-cut sheets." Sticker Gizmo has a number of new developments in progress including an update to its online design tool to make it easier for users to create their own library of label designs, along with its digital label service which uses the same technology developed for the schools' market to link labels with an online experience". Tillen concludes, "For now, we are delighted that the company is seeing business growth and label demand steadily increasing, even during this difficult period with the current Covid pandemic. We believe the combination of our software pedigree and the improved print execution that the Xeikon digital label press provides is an excellent platform for future growth."
The Sticker Gizmo web site illustrates the wide range of labels that the company can now produce, take a look on https://www.stickergizmo.com/.