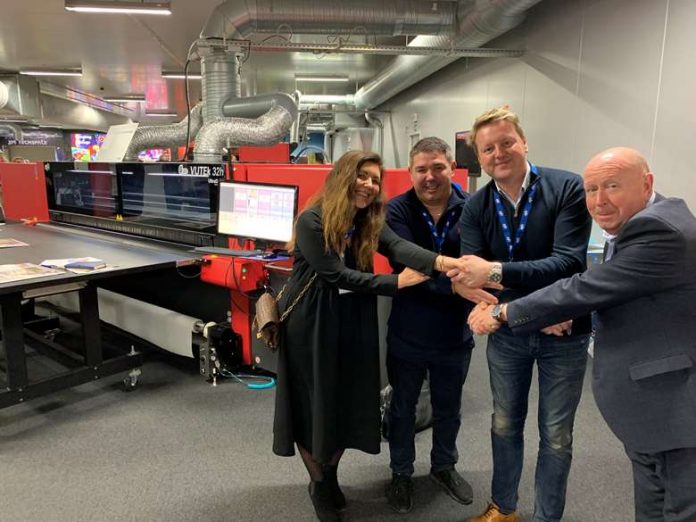 Eco Signs has installed an EFI Vutek 32h hybrid printer in a bid to improve its sustainability and productivity.

Installed in February, the new machine is Swindon-based Eco Signs' third EFI buy in two years following on from a Vutek LX3 Pro hybrid LED inkjet printer. The 32h combines flatbed and roll-to-roll printing.
A 3.2m-wide system, a variety of its features will allow the company to speed up production and increase its green credentials.
Company president Phil Thompson said: "Over the past two years, we have been stepping up our production facility due to ever demanding and increasingly tighter deadlines, which consequently puts pressure on the business.
"The 32h will have a major impact with doubling our output in 2020 and gives us an edge with LED and UltraDrop Technology for ultra-impressive, superb quality. That is a key priority for our business.
"The way in which its predecessor, the LX3 Pro, changed our business has impacted us much more than we anticipated. We have been impressed with the UltraDrop and LED technology, which helped drive down operating costs and waste and allowed us to have a better environmental footprint being 'eco'."
Handling both flexible and rigid substrates up to 508mm thick, the EFI Vutek 32h prints at speeds up to 84sqm/hr.
Its 'cool cure' LED technology is designed to reduce energy usage by up to 82% compared to other supersede drying and curing methods and makes use of opaque white ink and multilayer printing to broaden the range of applications available.
Eco Signs specialises in commercial signage, addressing UK clients with a focus on design, manufacture and supply for a full suite of products. It employs 25 members of staff.