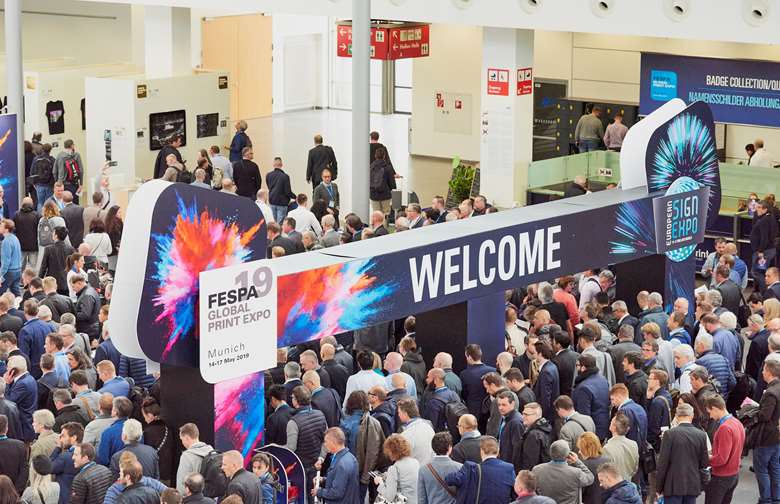 Fespa has launched the visitor promo campaign for next March's Global Expo and reaffirmed its commitment to do everything possible to ensure a successful event.
The theme for Fespa's flagship usually annual event, which is co-located with European Sign Expo, is "Bringing Colour Back".
"What we were looking at is something that is relevant in the current climate, we're re-engaging, reinvigorating the market, something I think it really needs. It's had a really tough year and a strong and powerful event like Fespa will help reenergise a lot of printers," said Fespa CEO Neil Felton.
"We're going to do everything in our power to ensure it's an incredible event and, so far, our exhibitors and associations and their printers, they're all supporting us on this."
While Fespa was recently forced to cancel November's Fespa Mexico, Felton said he was confident that next year's Global Expo would remain on track.
"At the end of the day we're planning for an event next spring, not this month or next."
Due to take place at the RAI Exhibition Centre in Amsterdam from 9 to 12 March 2021, the event effectively replaced the 2020 Global Expo, which had initially been due to take place in Madrid during March 2020 and was then pushed back to this month (October) before being cancelled in July.
While next April's Drupa has been struck with a raft of high-profile withdrawals by the likes of Canon, EFI, Fujifilm and HP, which are all regular Fespa exhibitors, Felton said since exhibitor sales started in September the event has already secured more than 180-plus exhibitors and he was confident of the final tally being "well over 400".
He added that in terms of historic large scale exhibitors, Avery Dennison, Canon, Elitron, Hanglory, Hexis, and SwissQprint had already committed with conversations ongoing with the majority of the others.
"What's really clear from visitors and exhibitors is that they're desperate to meet up, there are so many new products that have been talked about in Printweek, which people want to see and compare and contrast," said Felton.
"Everyone that has been speaking to us says there's a real demand for the show, they just want to make sure it's in a safe environment and we're going to do everything in our power to make sure that's the case."
He said that the RAI and other bodies are working with Fespa on initiatives like contactless entry, temperature checks, creating a floorplan that encourages social distancing, and limiting visitor numbers in each hall, although he said regarding the latter the numbers were "within the norms of what we would have at the show, so that's not a challenge".
In terms of visitors, he said the organisation was confident of welcoming "well over 12,000" visitors across the show's four days and highlighted that at the last Fespa in Amsterdam, 60% of visitors didn't fly and 50% actually drove "because it's beautifully located".
To maintain visitor engagement with the event Fespa is launching the first in a series of free "Coffee Break" webinars next week.
Hosted by Fespa technical support manager Graeme Richardson-Locke, the first fortnightly session, which takes place next Tuesday at 11am, will feature Missing Horse Consultancy owner Paul Sherfield and PrintFactory EMEA & Americas director Toby Burnett. It will look at how to set up effective colour workflows to save money.
Subsequent sessions will look at substantiality and software automation.
​