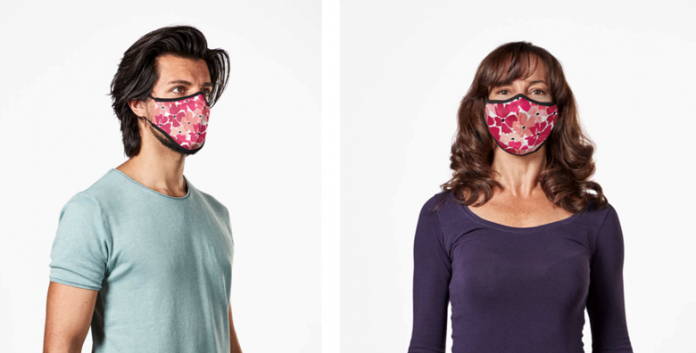 Printers are mobilising to supply non-surgical 'face coverings' following a spike in demand after the latest government guidance – web-to-print giant Vistaprint has added colourful masks to its range but has also experienced something of a social media backlash about its pricing.
The wearing of face coverings in the UK was already a growing trend, and is set to become increasingly commonplace following fresh government guidance issued earlier this week.
The government stated: "As more people return to work, there will be more movement outside people's immediate household. This increased mobility means the government is now advising that people should aim to wear a face-covering in enclosed spaces where social distancing is not always possible and they come into contact with others that they do not normally meet, for example on public transport or in some shops."
It also said that supplies of surgical masks or respirators, as used by health workers, "must continue to be reserved for those who need it".
Vistaprint has launched a major online promo drive for its new Replaceable Filter System (RFS) masks, which are made in bright colourways with two-layers of textile and a pouch for a disposable nano filter, which is sold as a consumable.
The masks are available in adult and children sizes, with prices starting at £13 for a child's mask, or £17 for the adult version. Discounts kick in for orders of more than 30.
Vistaprint also said that it was giving 10% of mask sales "to local communities impacted by the pandemic".
It is taking orders now but not shipping until the end of the month. The RFS masks available in the UK are fabricated in China and assembled in Italy.
A Facebook advert promoting the new product resulted in nearly 800 comments and more than 1,000 reactions – mostly like or love, but with more than 140 'angry'.
Some of those commenting accused Vistaprint of profiteering, because other cloth-based masks are available for much lower prices from community groups or via online marketplaces such as Etsy.
Responding to the criticism, a Vistaprint spokesperson told Printweek: "This newly released line of face masks with a replaceable filter system was engineered for performance, tailored for comfort and priced to include all delivery costs. While providing this higher quality, durable and washable face mask, we're also committed to doing all we can to help local communities impacted by Covid-19. For every mask purchase, we are giving 10% to local communities impacted by the pandemic.
"Vistaprint is also supporting small business owners by offering marketing services such as products with COVID-19 messaging, an expanded suite of online marketing services and a content hub to help guide them during this time. We will continue to work tirelessly to make the highest quality masks be available to everyone that needs one while supporting small businesses every step of the way," the firm added.
The burgeoning demand for masks saw Grafenia subsidiary Nettl start selling washable textile masks in April through its AniMask range, with proceeds going to the NHS. It also offers custom designs separately on a commercial basis. Prices for adult AniMasks, which don't have filters, start at £6.99.
Grafenia has introduced a 'premium' and 'regular' range for its corporate masks with pricing starting at £139 for 25 adult masks.
Chief executive Peter Gunning commented: "We've raised more than £7,000 for the NHS so far with AniMasks."
He said the potential for businesses to use their own bespoke designs was beginning to take off. "The Government rules are that employers must provide masks for employees, but not surgical grade, so they don't compete with the NHS.
"We've started selling custom designs already with some big bulk orders. Every set of five or 25 can have different designs. We've seen businesses do different styles, to mix it up," he added.
Grafenia is also selling the masks at trade prices via trade print wing Marqetspace.
Online searches for 'face masks' spiked following the government's announcement on Monday afternoon, according to Google Trends (see below).
The topic has even been covered by fashion magazines Vogue and GQ, with American Vogue featuring a selection of 'stylish' masks including a $100 (£81) version by cult fashion label Proenza Schouler.
Patrick Grant, Savile Row tailor and a judge on the BBC's Great British Sewing Bee, has just launched The Big Community Sew to encourage people with sewing machines to make fabric masks for people in their communities.
The BBC has also published guidelines about how people can make their own simple face masks.
Demand for the type of disposable masks commonly worn by people in the Far East is also likely to increase.
Equipment supplier Diecut Global said it was currently installing its first mask-making machine at an unnamed printer in the north of England that is diversifying its offering.
"We have the supply chain in place for all the materials, this is a market that isn't going to go away any time soon," said managing director Steve Waterhouse.