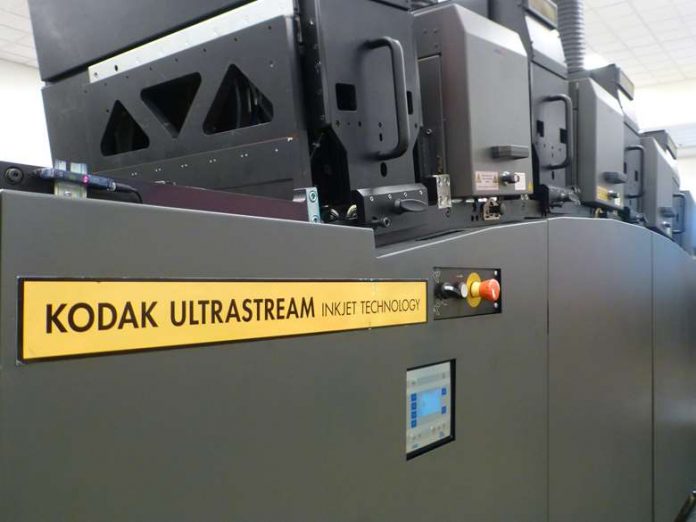 Kodak is poised to launch new process-free plates and a "ground breaking" innovation in digital print, as it gets ready to unveil new products that would have been on show next month at the now-postponed Drupa.
Announcing Q1 results for the three months to 31 March under its new simplified structure, the group posted sales down $24m (£19.5m) at $267m following falls at its Traditional Printing division (down $12m) and Digital Printing wing (down $7m), while sales at Advanced Material & Chemicals slipped by $6m to $48m.
Its EBITDA operating loss increased by $3m to $8m.
Executive chairman Jim Continenza said that actions taken last year to strengthen the group's balance sheet were helping the business cope with the Covid-19 slowdown.
"Kodak employees have risen to the challenge of the pandemic, continuing to serve our customers and redirecting resources to produce isopropyl alcohol for hand sanitizer and manufacture face masks using our ESTAR film base. Looking forward, we will continue with our plans to double down on digital print, launch exciting new products and realign our business to focus on customers," he stated.
Kodak said it was operating within its banking covenants and ended the quarter with $209m of cash.
CFO David Bullwinkle said Sonora plate volumes grew by 18% during the period, but revenues from its Prosper inkjet press annuities fell by 4% "attributable to the market downturn related to the Covid-19 pandemic".
He said that Kodak had already initiated actions to reduce operating expenses by approximately $40m for the year, prior to the pandemic.
"These actions were expected to provide significant progress toward positive cash flow from operations for the year. However, given the uncertainty of the Covid-19 situation, we have now taken incremental cost actions and have revised their expectations to over $60m in annualised cost reductions. Incremental cost actions were implemented early in the second quarter of 2020."
Bullwinkle said that Kodak was ineligible for most government subsidised loan programs.
"We are continuing to explore eligibility and jurisdictions such as the U.S., England and Germany. As the duration and scope of Covid-19 continues to evolve, Kodak will continue to monitor for any new government relief programs, for which the company may be eligible," he stated.
"The government relief had very little impact on the first quarter, as most programs were not operational until the second quarter. Employee retention related relief is available to Kodak in some countries which includes, job retention, wage subsidies, social benefits relief and payroll tax relief. Non-HR related tax relief is also only available to Kodak in some countries, which is mainly comprised of deferral of various tax payments."
Bullwinkle said the group had been able to keep its operations open, and continued to work closely with government officials around the world to keep its manufacturing facilities open.
Continenza praised Kodak employees for their commitment.
"I really want to thank our employees who show up every day, and keep the factories that keep the supply chain working. I want to make sure that we recognise those that have to go to work every day in this environment, and go home to their families. And we're doing everything we can to keep them safe."
The manufacturer reiterated its commitment to "doubling down on digital" and will continue to invest around $25m in R&D in that area.
The new products are expected to be announced next month.