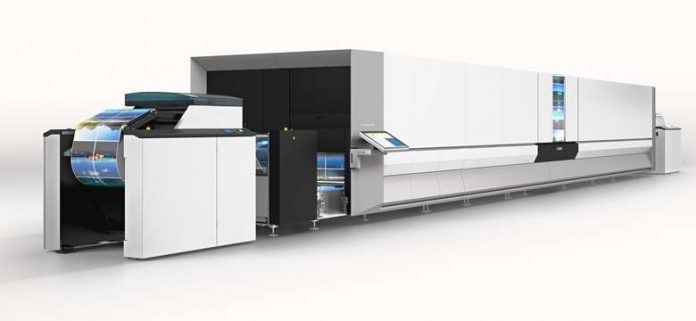 Canon has launched a souped-up ProStream high-speed inkjet capable of producing 11,300 four-back-four B2 sheets per hour to open up continuous, formerly the preserve of transactional and publishing printers, to commercial operators.

The new ProStream 1800 is based on the ProStream 1000 platform, but offers a 66% speed boost over its sibling, which will continue to be available, with a 20-25% price premium depending on configuration.
The duplexing printer runs a 558mm wide web with a print repeat length of up to 1,524mm.
Developed and built in Poing, Germany, it features the same core 1,200dpi head technology, which was jointly developed with Kyocera, that is used in the recently launched Canon VarioPrint iX series of B2 inkjets.
The continuous feed 1800 also features the same contactless air flotation drying system as the 1000 and features an inline ColorGrip pre-coat so can handle paper grades from 40-300gsm across standard offset coated, uncoated and inkjet optimised papers. Inks are a pigmented polymer set.
Accoding to Christian Unterberger, chief marketing officer & executive vice president, PPP, Canon Production Printing, the high speed and wide substrate range opens up a significantly broader range of applications for users.
"It's about highest quality at the highest productivity to enable offset customers to convert to digital with no discussion necessary about quality," said Unterberger.
Current ProStream 1000 users can field upgrade their machines to the 1800 specifications.
"It's mainly a software upgrade, but there are a few parts that need to be upgraded to enable the much higher speed and we also made some enhancements on the quality side to ensure it remains benchmarked against the ProStream [1000] in terms of digital print quality," said Unterberger.
The ProStream series was unveiled in 2017, and there are currently around 40 ProStream 1000s installed around the world with uptimes of 90-92% typically experienced by users, according to Unterberger, compared to industry averages of 65-80%.
The first UK 1000 is set to be commissioned shortly at an as-yet-unnamed printer.
A beta 1800 was installed at an Italian printshop around a year ago, with the machine subsequently becoming the first commercial installation.
Unterberger said that Canon had a defined roadmap for the ProStream platform, hinting that more retrofittable enhancements may be unveiled next year.
"I think our message to customers has always been that if they invest in a platform then we always focus on evolving the product and make it upgradeable."
The launch of the 1800 follows the release of the cutsheet iX series in April, which has already secured 15 sales with the first UK machine set to be delivered to Severn next month.