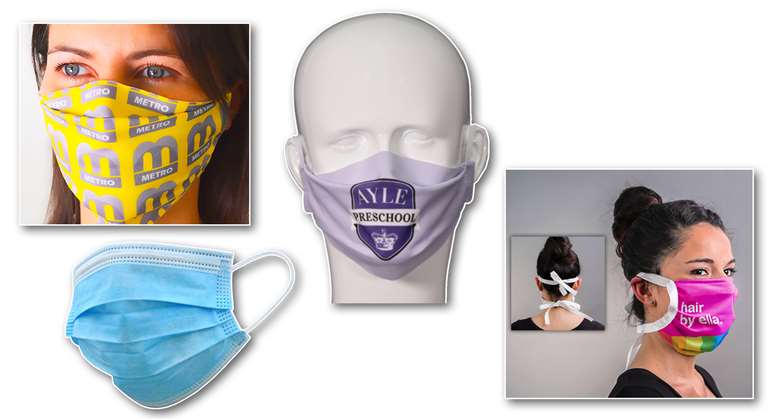 Print bosses are gearing up for a further surge in demand for face coverings following the latest government edict.

The government has announced that in England, people must wear face coverings in shops from 24 July or face a potential £100 fine.
The same requirement has already been mandatory in Scotland since 10 July, but not as yet in Wales or Northern Ireland.
Three-layer face coverings will become mandatory on public transport in Wales from 27 July.
Demand for face masks and coverings had already increased after last month's ruling that coverings should be worn on public transport in England, and as more businesses opened their doors with staff kitted out in suitable protective gear.
Industry bosses have begun reacting to the latest development.
Bluetree Group director James Kinsella told Printweek the business was poised to ramp up production of disposable masks at its brand new Mask Box facility near Rotherham.
"We envisage a pick-up of demand following the government announcement, which is why we are proud to be increasing our production of Type IIR certified surgical masks from 2.1m per week today, to 4.2m from Monday and building to 20m by September," Kinsella stated.
He said the firm's subscription sales were "definitely building".
Solopress managing director Simon Cooper said that visors were currently proving more popular than face masks following an initial spike in demand for washable fabric face coverings.
"For people working in pubs, restaurants and shops a visor makes a lot more sense as it's not touching your face and is more comfortable for long-term wear," he said.
He questioned why the latest decision had taken so long.
"I'm extremely confused about why the government couldn't have done this when the virus was rampant in March. It's disappointing that it's taken so long to make a decision that seems fairly obvious."
Additionally, the Southend-on-Sea firm is about to add the winning designs from its 'Mask My Way' design competition to its product range.
"We do realise there will be additional demand for masks in response to this announcement and these are really nice designs, and a more couture-ish product," Cooper added.
Grafenia chief executive Peter Gunning said that Nettl's sewing team had been making masks "just about non-stop".
"We do them in fives and some businesses are being really creative, designing different styles for their teams. We just launched AniMasks in Ireland and The Netherlands, again with all sale proceeds going to charity," he said.
Packaging group Rapid Action Packaging (RAP), which began manufacturing disposable face shield using its sandwich packaging know-how earlier this year, has now added a new low-cost 'sustainable' face mask to its range.
The RAP Barrier Face Mask is made from FSC board and has a detachable elastic band which can be separated from the board element for disposal.
The firm is manufacturing the new masks in adult and children's sizes.