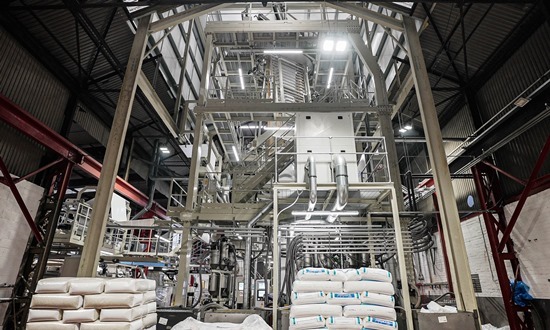 Polythene packaging manufacturer DUO UK has doubled UK-based production in 2020 following a £1.85m investment, which has produced its largest sales month on record.
The company has invested in new equipment and extended its facilities to produce 58 million more mailing bags this year to date, an increase of 66% compared to 2019, and is growing its manufacturing team with the creation of seven new jobs.
It has also revamped staff canteen and break rooms, creating a new socially distanced space.
The new equipment includes a conversion machine and a five-layer co-extruder, which has increased polythene film output by around 25%, and boosts its range of technical abilities to allow DUO to manufacture more films using recycled polythene content.
Total sales in November were up 22% against last year, making it the largest total monthly sales in the Manchester-based firm's 32-year history.
Additionally, the company has committed a further £1m investment in new equipment to increase production capacity, including the buildout of its sustainable product range that utilises waste polythene, and further develop its international footprint.
Anthony Brimelow, commercial director at DUO, said: "Our international trading partners have been affected by closures and supply chain delays caused by coronavirus. We moved quickly to address this and were able to accelerate the installation of our new equipment and site expansion, as well as safely adapting our production capabilities and working patterns, to ensure we could satisfy growing demand for e-commerce mailing bags and other products being used in the fight against Covid-19 such as hygienic packaging for face masks.
"As well as increasing our UK-based production capacity, the new equipment improves our range of technical abilities and allows us to manufacture more films using recycled polythene content. This fits with our wider strategy to reduce carbon emissions, utilise waste polythene and create more sustainable packaging," Anthony added.
The company has seen a 10% increase in the volume of recycled content it uses during manufacturing in 2020 and has sold more than 15.5 million of its GreenPE mailing bags this year to date.
Brimelow added: "Drawing on our presence in countries such as China, Germany, the US and Australia, as well as the UK, strengthens our resilience and underpins our commitment to maximising sustainability. We're in position to determine the most carbon efficient packaging solutions for our clients, no matter where they are based, and will build on this with future investment and research that reduces carbon and improves resourcefulness."