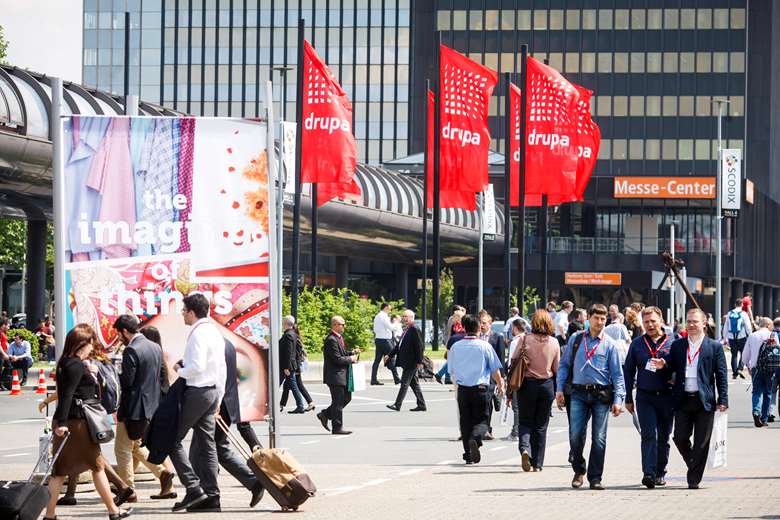 Drupa host venue Messe Düsseldorf has opened the doors today to its first trade show since the coronavirus pandemic forced the postponement or cancellation of its expos.

Caravan Salon is, according to the organisers, the first major trade fair to take place in Germany in six months. 350 exhibitors will present over 200 new products at the show and the Messe said that, due to social distancing measures, there is a daily limit of 20,000 visitors.
A Messe Düsseldorf spokesperson told Printweek that today (4 September) "is an important day for the exhibition industry".
"Caravan Salon will have a special international appeal beyond the borders of Germany. The international trade fair industry is experiencing a good restart at the Caravan Salon: vehicle manufacturers, dealers, technology manufacturers, associations, destinations and camping sites have found their way to Düsseldorf.
"However, we were and are convinced that trade fairs and personal encounters between exhibitors and visitors will continue to retain their fascination and relevance. More than ever, companies need platforms to present themselves and their innovations, to network and to set the course for the future together."
The Messe said it has developed a concept that enables exhibitors, visitors and the media to all participate safely in the event.
"Under the motto 'PROTaction', hygiene standards for the Düsseldorf exhibition grounds were tailored to the needs of the responsible authorities and in accordance with the regulations in North Rhine-Westphalia," the spokesperson explained.
"This will ensure that exhibitors and their staff at the stands as well as visitors can plan their stay at Caravan Salon 2020 with ease. For example, more than 600 people will ensure compliance with the known hygiene measures and the implementation of the standards during the fair.
"These are PROTaction guides, information staff, cleaning service, security service providers, parking attendants and many more."
The show is open for 10 days, until 13 September, and tickets can only be purchased online through the Messe's ticket store to ensure that all visitors are registered and tracking is guaranteed.
The spokesperson added: "Fair operators, exhibitors and visitors are happy that they can finally meet in person again to do business.
"Caravans and motorhomes are very emotional products – you can't inspect them online, you have to test and explore them in direct contact."
Drupa and Interpack are the two events of industry interest held at the Messe that were postponed. Interpack, which had been due to take place in May, will now be held from 25 February to 3 March 2021 while Drupa was initially rescheduled to 20-30 April 2021 but was shortened to nine days and will now finish on 28 April.
August had marked a critical phase for Messe Düsseldorf, as Drupa exhibitors were required to confirm their stand requirements by the end of the month.​
The event has suffered a number of high-profile withdrawals in recent weeks, with Screen Graphic Solutions the latest to announce its intention to pull out of the show earlier this week, following in the footsteps of Heidelberg, Xerox and Bobst, Sitma, Komori and Manroland Sheetfed.
Others have publicly backed the show, however, including Koenig & Bauer and, most recently, hot stamping and coatings specialist Leonhard Kurz, which said that after seeing the detailed hygiene and infection protection concept presented by Messe Düsseldorf, the company is convinced that Drupa can take place under safe conditions for visitors and exhibitors alike.
"Discussions with our customers have indicated that they do not want to miss out on this unique industry gathering and the inspiration that Drupa provides," said chairman of the board Walter Kurz.
"Now, especially, the printing industry is looking for new ideas and ways to expand the order books. We have creative solutions to present and look forward to engaging with our customers and partners."