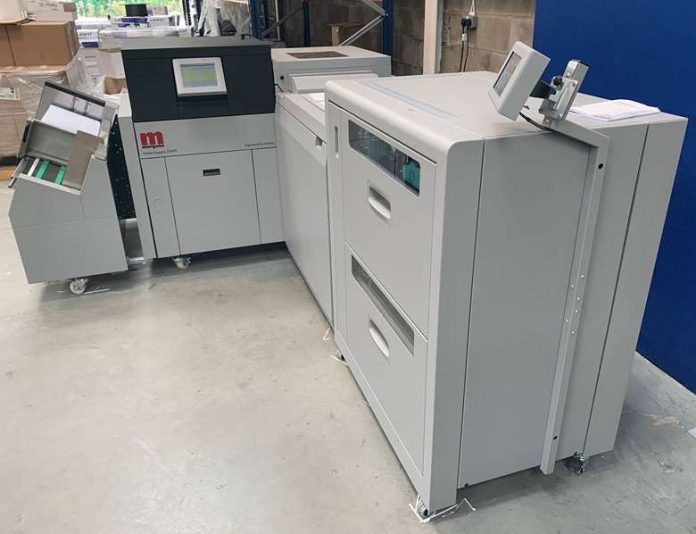 Educational print specialist Homework Diary Company (HDC) has expanded its bookletmaking capacity with a third Morgana PowerSquare.
The Inchinnan, Renfrewshire-based business installed the offline Morgana PowerSquare 224VF with high-capacity feeder at the end of July.
The firm largely runs Canon digital print engines, and the new offline Morgana was supplied by Canon UK.
It joins a five-year-old hand-fed Watkiss bookletmaker and a second inline PowerSquare unit on a Canon VarioPrint 6250 that was installed two years ago.
"Whilst the inline unit has been a great success, the latest Morgana PowerSquare 224 with the VF feeder can be much more efficient and more versatile in an offline configuration, where it can handle the output from two or three of our mono and colour Canon presses," said managing director Robin Clark.
"This will allow us as a business to be much more productive, which can be critical for our especially busy periods, such as before the start of the new school year."
The latest's machine's optional VF vacuum assisted high-capacity feeder has a total capacity of 540mm, with each of its dual bins, which can run fully pre-collated sets for long runs as well as separate covers and sets, holding 270mm each.
Launched last year, it carries out the stitching, folding, spine forming, and trimming in one machine and has automatic settings for books size and pagination, with variable stitch-length for different book thicknesses and up to six stitches along the spine for special applications and multiple ups.
It can product booklets up to 10mm thick and can handle sheets from 210x200mm to 350x500mm and features a two-knife trimmer and single stitching head.