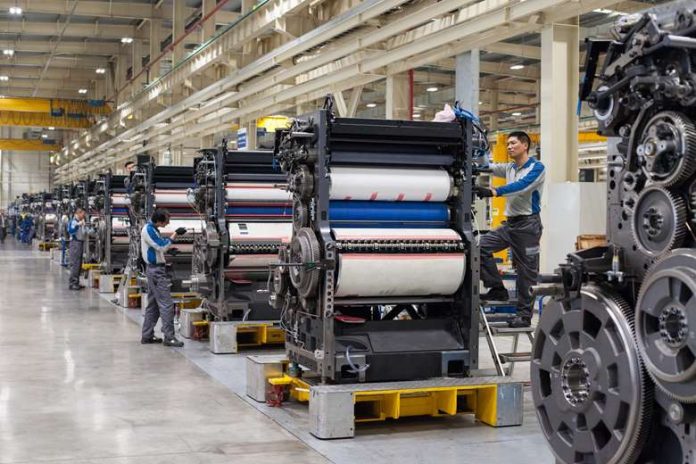 Heidelberg has reported "cautious optimism" as world markets start to pick up, including the important Chinese market, but expects sales in its new financial year to be "significantly down" due to the Covid-19 pandemic and is anticipating another loss-making year ahead.

The world's largest press manufacturer today confirmed its preliminary results announced last month for the financial year ending 31 March, which involved a massive net loss of €343m (£306m) on sales down 5.7% at just under €2.35bn.
The group has implemented a raft of restructuring measures, including the loss of 1,600 jobs worldwide, aimed at focusing on its core business and improving profitability by €100m.
The original estimate was for 2,000 jobs to go, but the figure has been "settled" at 1,600.
Chief executive Rainer Hundsdörfer described 2019 as a year of "clarity and consequences for us".
"Even before the Covid-19 crisis, we launched the most comprehensive restructuring program in our recent company history to strengthen Heidelberg's profitable core. Now we are doing everything in our power to further stabilise our financial base and become sustainably profitable in the medium term," he stated.
"We are pressing ahead with the implementation of this program in order to make Heidelberg a better company. We have already reached important milestones. Particularly in times of crisis, this also helps us to be a strong partner for our customers' side and to actively support them."
The group said that it, excluding restructuring costs, it aimed to post a stable EBITDA margin on lower sales in the new financial year.
EBITDA margins fell from 7.2% to 4.3% in its 2019/2020 results.
Heidelberg said that performance data gathered from its installed press base, which laid bare the effects of the pandemic on world print markets, showed that business in China, which is its biggest single market, "is picking up again and has already surpassed the prior year level".
Other markets are also showing "initial signs of recovery" the manufacturer stated, which was a cause for "cautious optimism".
Heidelberg said that the pandemic made it impossible to be more precise about its forecasts at the current time.
Its share price slipped by 3% to €0.66 on the announcement (52-week high: €1.50, low: €0.48).
Heidelberg's UK operation is currently in the process of consulting with the workforce over a proposed 20% reduction in headcount, the equivalent of around 40 roles.