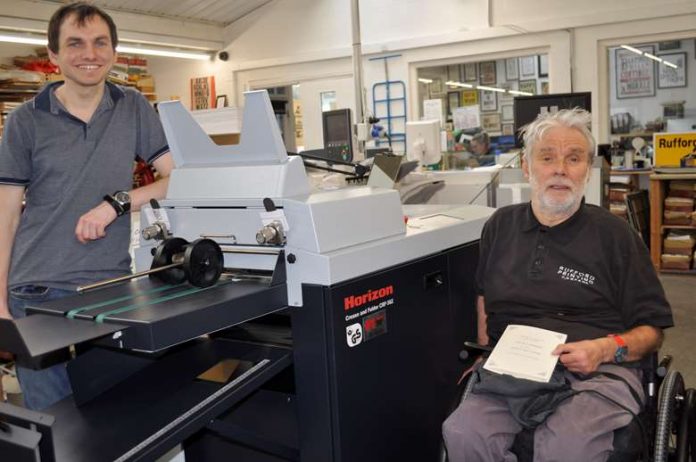 Rufford Printing Company has installed a Horizon creaser/folder as the commercial and letterpress printer rises to the current coronavirus challenges to continue to support businesses and its local community.

The firm installed a Horizon CRF-362 Creaser Folder from IFS last month.
The purchase was partly-driven by the need for better quality creasing on luxury packaging the firm produces for a chocolatier based on the same Cedar Farm retail and business park in Mawdesley, Ormskirk.
"Horizon stuff might be a little more pricey, but it bloomin' well goes," said Rufford founder Brian Smith in praise of the device.
Smith founded the four-staff business, which is celebrating its 50th anniversary this year, with an Adana 8×5 hand press.
"I had a spinal injury in 1968, which left me in a wheelchair and occupational therapy departments back then always seemed to have one of these presses.
"It's gone full circle, I started printing as part of my recovery and I've never been without work since."
The firm continues to operate through the lockdown, albeit behind locked doors, largely down to the fact that it produces multilanguage leaflets for medical devices, print for medical centres and duplicate books for the agricultural sector.
"When you're standing in the middle of a muddy field, you want a piece of paper, not an iPad. So there's still a need for people like us," said Smith.
The firm is also still taking on commercial work, providing it can adhere to social distancing rules.
Smith started the business started on his mother's kitchen table in 1970, with his dad joining a year later when Smith purchased a Heidelberg platen and relocated to the family's garage.
Over the years he added offset litho and digital and, at its peak, employed six staff.
Since last year the firm has focused on digital and letterpress, operating two Xerox digital presses, Canon and Roland DG wide-format printers and a wide range of finishing kit offering services including foiling, bookletmaking, folding and die-cutting.
According to Smith, letterpress has been a staple of the 50-year business, although it's now largely restricted to wedding and social and business stationery, which had been a growing part of the business before the coronavirus lockdown.
"I've a Vandercook 4C proofing press and an Arab Treadle Press from the 1800s, and I've got an Intertype machine that was one of the last from the Guardian in Manchester, apparently."
The firm also runs letterpress open days for the local community and letterpress aficionados from across the country, which often attract over 100 visitors. The next event, which was scheduled for 20 June has been cancelled due to the Coronavirus pandemic.
While the business has had to furlough one member of staff and has seen a significant drop off in work, Smith, who "lives and breathes print", is matter of fact about the current challenges.
"I think the government has been pretty fair. And I hope that we'll be here ready for when it [the lockdown] comes off.
"I've worked a three-day week when the electric went off and I've set type by the power of a light run off a car battery during the miners' strike. We've been through tough times before.
"We'll get through this."