Labelexpo 2019, the world's first trade show dedicated to adhesive labels and flexible packaging, which takes place in Brussel from Sept. 24 to 27, will be the opportunity for MGI and Konica Minolta, to display their dynamism in this market, through a common booth of nearly 350 m2, showcasing 5 digital printing and embellishment presses.
JETvarnish 3D Web Color+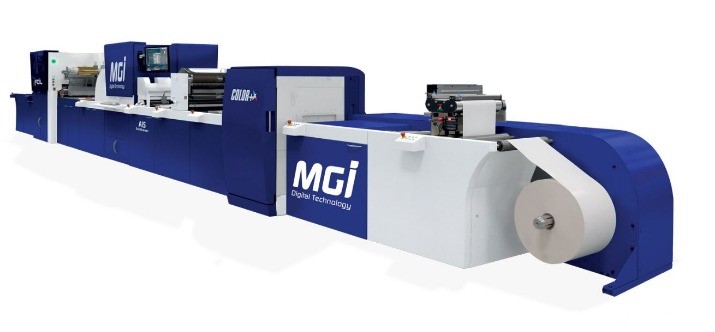 For its 40th edition, Label Expo will witness a rapidly growing market, with a worldwide turnover expected to increase from $31 billion to $41 billion between 2018 and 2023 for adhesive labels, while the flexible packaging will increase from $98 billion to $132 billion (2016-2022)*.
In this growing market, driven by the strong evolution of digital technologies, MGI Digital Technology and Konica-Minolta will demonstrate the relevance of their range of digital printing and embellishment presses, to the 38000 international visitors expected in Brussel.
World First on Labelexpo for MGI and Konica-Minolta
On their common stand, MGI and Konica-Minolta will exhibit 5 equipment, among which:
In the World First, Konica Minolta's will exhibit 2 copies of the brand new AccurioLabel 230. This new digital roll-to-roll toner digital press is ideal for short- and mid- production runs of adhesive labels. It replaces the AccurioLabel 190, whose global success has enabled Konica Minolta to become one of the key players in the digital printing of adhesive labels market.
MGI's JETvarnish 3D Web Color+, the world's leading inline roll-to-roll digital printing and embellishing press (flat and raised UV varnish and hot foil) will demonstrate the suitability of an integrated solution. As a breaking technology, MGI's JETvarnish 3D Web Color+ is characterised by a great deal of flexibility in use, allowing for both short and medium production runs, as well as very long series of labels and flexible packagings on a very large range of substrates.