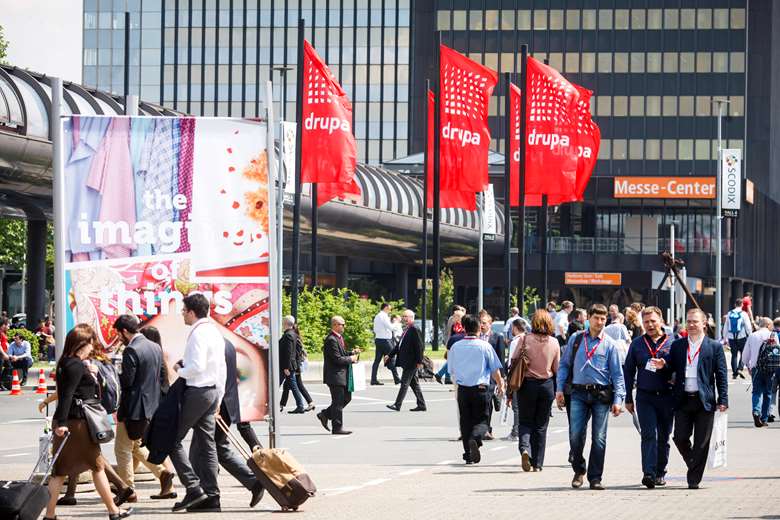 Drupa has reduced the duration of next year's show from 11 to nine days and has acknowledged that fewer international visitors are likely to attend due to the ongoing effects of the Covid-19 pandemic.
With nine months to go until the show, Messe Düsseldorf has issued a bulletin to exhibitors. It explains that the decision to shorten the length of the expo has been made as a result of exhibitor requests due to ongoing travel restrictions caused by the virus crisis.
"We currently assume that compared to previous editions less visitors from overseas will be able to visit Drupa 2021, which is why we believe shortening Drupa's runtime from 11 to nine days will make it possible to more efficiently direct visitors. said Drupa president Claus Bolza-Schünemann, also CEO of press manufacturer Koenig & Bauer.
"At the same time a runtime of nine days still allows for presenting running machinery, which has always been a unique feature of Drupa," he stated.
Bolza-Schünemann had previously asserted that he was "fairly convinced" that visitor numbers would be on a par with the last Drupa in 2016, despite the Covid-19 pandemic.
Messe Düsseldorf said that both the implementation of its new Covid-secure hygiene and infection protection concept "as well as some cancellations" made it necessary to re-plan the showground's halls.
The Messe also said that currently approved space allocations would remain the same, but has asked exhibitors to supply any requests for changes by the end of August.
One exhibitor said that the revised regulations for exhibiting meant "we can't actually fit all the kit we had planned to show on our booth anymore".
The expo is dealing with a rash of cancellations, with Komori and Manroland Sheetfed the latest exhibitors to pull out.
Xerox, Bobst and Heidelberg have also cancelled.
A seasoned industry expo pro commented: "I think it's looking like they think it will be mainly domestic visitors."
However, the Messe stated that "despite some corona-related cancellations, the current booking status remains at a high level with over 1,500 exhibitors and a net hall space of more than 140,000sqm".
It said this underlined the need for "face-to-face meetings, acquisition of new customers" and that the desire to see live presentations of running machines "still exists".
Drupa director Sabine Geldermann commented: "Many of our customers also see it as their own responsibility to strengthen the industry and provide important impulses personally on site."
At the last Drupa in 2016 there were 1,823 exhibitors with 1,302 international exhibitors and 521 from Germany.
Of the 260,165 visitors that attended from 189 countries, 25% came from Germany, 43% 'other Europe' and 19% from Asia. 32% of attendees came from non-European countries.
The new show dates are 20-28 April 2021.