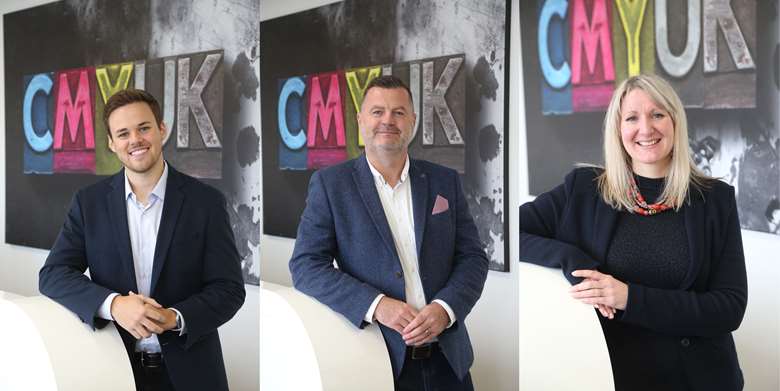 Wide-format kit reseller CMYUK has bolstered its consumables division for growth spurt with a brace of promotions and a new hire, with more appointments set to follow.
The Woodley, Berkshire-headquartered business has appointed fashion graduate Susie Williamson as key account manager for its interiors, fashion and design range of specialist digital textiles.
Williamson has previously worked at textile hardware reseller RA Smart as well as specialist textile printer Think Positive, both based in Macclesfield.
According to new business director Michael Crook, who heads up the consumables division, Williamson's "wealth of knowledge" of textile design and technology will help expand the business's consumables business.
"As customers diversify and expand on their digital print capabilities, we see a strong move into digital textile printing to service markets such as interior design, fashion and promotional branded products… Susie will be key in its delivery to market," he said.
To further develop its consumables arm, the business has also promoted two of its existing sales staff.
Damien Clarke has stepped up from key account manager to sales director, while Joel Willcock has been promoted to commercial director.
Both promotions are effective immediately.
"We have a culture of empowerment at CMYUK and this forms the basis from which we are going to expand to the next level," said group finance and operations director Jon Price.
"Our restructure establishes a senior management team that allows us to evolve at a rapid rate and gives the rest of our staff the freedom to grow, develop and add even more value to the overall business."
The business is also planning to add two "digital resource lead generators" to generate sales leads.
Group sales and marketing director Robin East said that the consumables division had experienced significant growth and the business was now planning to enter a "new phase of expansion where we are looking to new markets and geographical regions".
"We are focusing on innovative eco-responsible products that deliver on quality, performance and price, which are clean and much better for the environment," he added.
"We have set out a new structure to ensure the scalability we require to grow rapidly into new geographical regions with these innovative new product ranges."