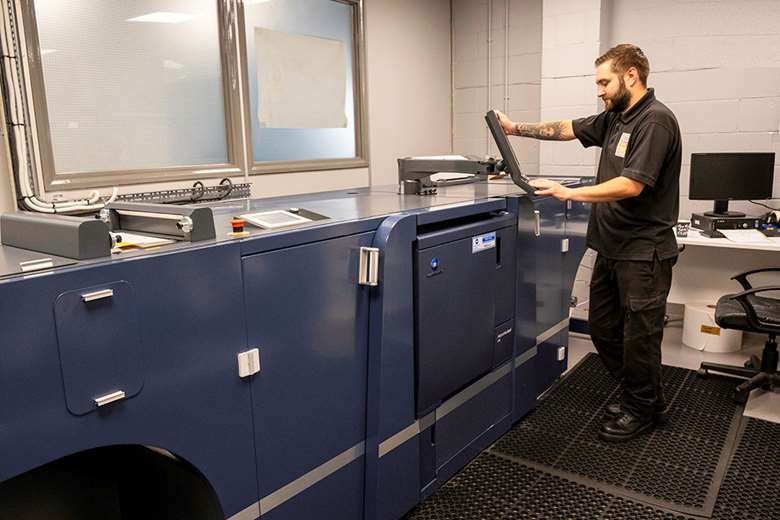 Direct Labels UK has expanded its digital firepower with a Konica Minolta AccurioLabel 230 toner label press to complement its inkjet offering and boost flexibility as it adjusts to the new business landscape.
The Nottingham-based business installed the roll-to-roll press earlier this month after managing director Chris Eveson concluded that the changes to the business landscape caused by Covid-19 made it imperative the 15-staff business become as agile as possible.
"Since Covid we've probably been busier than we ever have, we've not stopped at all. March was the third best month in our history and we beat that in April, May, June, July and August," said Eveson.
"We have a lot of customers that want to order millions of labels, but they don't want to order them in one go, they would sooner order in more frequent, smaller batches as they need them. It's the nature of the industry at the moment."
As a result, the business was looking to augment its 18-month-old six-colour (CMYK plus double white) Domino N610i inkjet label press with a toner device to enable it to take on a wider range of work.
After evaluating the market, Direct Labels opted for the Konica Minolta machine.
"It's fantastic. And now that we have the two technologies together, inkjet and toner – there's nothing digital that we can't do. And we're the only company in the country that has both the Domino and Konica technology."
He said the benefit was that both machines were 1,200dpi, so jobs are just placed on the respective machines based on efficiencies.
"The Konica's been in less than a month and we're already starting to see margins grow."
The AccurioLabel 230, which was developed in collaboration with Grafisk Maskinfabrik in Denmark, is now on its third generation. Depending on substrate, it's capable of up to 23.4m/min and can print at its highest resolution of 1,200dpi for runs of up to 1,000m without the need for recalibration.
It can handle reel widths between 250 and 330mm and substrates from 81-256gsm, with most papers, including synthetics, and PP and PET films between 120 and 160mic capable of being processed at its top speed.
List prices start at around £160,000.
According to Eveson, the machine's Food compliant Simitri HD E toner technology was another draw.
"We're finding that we're getting a lot of new enquiries, and one of the reasons is the food-safe toner," said Eveson.
As well as its digital machines, the company runs a small flexo press and two Focus Label Machinery Reflex label finishing lines and two Ashe rewinders.
Alongside the new press the firm is also set to add a blind embossing unit to one of its Reflexes and is looking to upgrade its embellishment and rewind kit to be able to handle 330mm-wide reels, which are currently configured for 250mm reels.
"Both the Konica and the Domino can run at 330mm wide, so over the next six to 12 months we'll be moving our machinery to convert at 330mm," said Eveson.
"So, basically every job we win now will be 25% more profit when we put more across the web."
The firm serves a wide range of customers, but Eveson said that it is particularly focused on supporting smaller start-ups, which grow with the business.
"I think too many label printers only want to know you when you're big. We have big customers, but we're also known for dealing with small enterprises and some of those have turned into massive accounts for us."