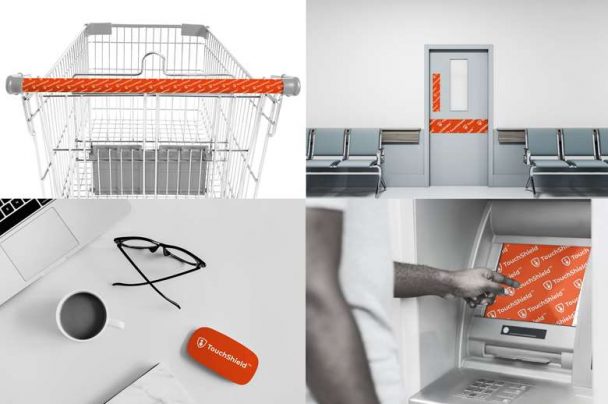 UK materials manufacturer G-Tec Paper & Film's new range of TouchShield anti-microbial self-adhesive film has secured a 93% virus protection rating.
When it was unveiled in May it had only been tested against the ISO 22196:2011 antibacterial activity standard, where it scored 99% protection, but has now been tested to ISO 21702, which measures antiviral activity on plastics and other non-porous surfaces of anti-viral treated products.
In the tests, the 103mic TouchShield WPVC70 film scored 93.41% effectiveness against an enveloped viral strain similar to Covid-19.
Tom Powell, CEO of G-Tec parent Gardiner Graphics Group lauded the firm's development team, led by head of R&D Andrew Gartshore: "The team weren't happy settling for 99% efficacy against bacteria alone. A virus-beating protective film product was exactly what they wanted to deliver."
Manufactured at the firm's facility in Banbury, Oxfordshire, watermarked TouchShield is designed to prevent the spread of bacteria and viruses within commercial and public spaces and retail environments. It features a silver ion, antimicrobial additive.
The company is poised to launch a global distribution network for the range.
"We are in negotiations with partners on a global scale where we will see these films being used in an array of sectors such as healthcare, retail, financial and architectural. The scope for these products is without end and we welcome any new opportunities for distribution where these films can add value", said group managing director Will Duggins.