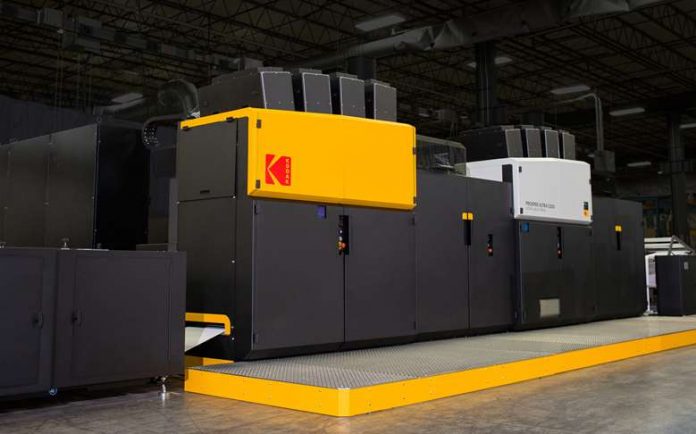 Kodak has announced a raft of new products that would have been the centrepiece of its Drupa exhibit.
Drupa 2020 would have opened yesterday (16 June), and a host of industry manufacturers are using the show's original timeframe to showcase new product launches.
Introducing the new products, Kodak executive chairman and CEO Jim Continenza said: "Welcome to the new Kodak. I'm excited about where we've come in the last year-and-a-half and the direction we've gone over the life of the company.
Referencing the plans for 'one Kodak' that he announced last October, Continenza stated: "Not only are we back, we are going to change from a divisional structure to a functional, measurable, trackable, accountable structure. We're going to be easy to do business with."
Continenza also said that following the April 2019 sale of its packaging business "Kodak has never been in a better financial position in the last 20 years".
"Print, film and chemicals is what Kodak does, and we are doubling down on digital," he stated.
Kodak's product announcements include a new version of its Sonora process-free plate, Sonora Xtra, two new platesetters, a high-speed inkjet press the Prosper Ultra 520, and a relaunch for its Nexfinity digital press platform.
The manufacturer confirmed that it was working on sheetfed inkjet with "more to come" in that area.
Kodak has also built upon its existing joint venture partnership with Uteco for the Sapphire Evo W 1.25m-wide flexible packaging press, which Kodak said could take on gravure and flexo for runs up to 20,000sqm.
It uses Kodak's latest Ultrastream continuous inkjet technology and prints at 600×1,800dpi at speeds of up to 150m/pm. Features include inline priming, flexo white, and post-coating options.
"It has eight times the productivity of the leading competition," stated senior vice president for digital print Randy Vandagriff, and Kodak claimed that running costs were half that of competitors "creating more profit per job" for printers.
The cloud-based Prinergy On Demand workflow, which was unveiled at Kodak's GUA user conference last autumn, is also now available via monthly subscription.
"It's an open platform that works with all technologies, not just Kodak solutions," said vice president for print, Todd Bigger.
Licences will be included in the monthly sub fee, making the entry point "much easier" he added.
At its pre-press wing, Kodak billed the new 'T-Speed' Magnus Q800 as "the world's fastest 8pp CTP for process-free plates".
It is 15% faster than the existing model and can handle up to 80pph. Automation options include a Multi Pallet Loader with a 3,200 plate capacity. The Q800 goes into beta testing this month and is slated to ship in September.
In the pipeline for next year is the Magnus Q4800 CTP with dual imaging for VLF applications including 96pp web presses. Maximum plate size is 1,650×1,600mm and Kodak said it would be the only platesetter on the market able to "image two 1,650mm-wide plates simultaneously". Pallet automation means the Q4800 can operate with up to eight different plate sizes inline, with a capacity of 4,800 plates. "It will have the most flexible pallet automation available," Kodak stated.
The new Sonora Xtra plate is aimed at opening up process-free to more printers. It is described as being "tougher" with "improved handling robustness" including for use with UV inks, as well as being 20% faster to make ready than the existing Sonora X plate.
Sonora Xtra will be available at the end of this year.
The next-generation Ultrastream high-speed inkjet tech is also deployed in the new Prosper Ultra 520 press.
This is targeted at mid-volume commercial, direct mail and publication print applications due to its ability to print full coverage on coated stock.
"The Prosper Ultra 520 will deliver our customers a new product with high productivity, high image quality and the lowest running costs in the market," Vandagriff stated.
"The advantages and benefits include heavy coverage and high volume applications that can't be done on inkjet today."
The circa $2m (£1.58m) press prints at 600×1,800dpi and has a 520mm print width. It can print at 150mpm, or more than 2,000ppm, and handles stock from 45-270gsm.
Print speed does not have to be slowed down for glossy papers.
Kodak also highlighted its use of "eco-friendly, water-based inks" using nanoparticulate pigments, which means it avoids the "rising cost of solvent chemicals".
The Ultra 520 is slated to go into beta test later this year, with shipping planned for early next year.
The Prosper 6000 remains in the portfolio for higher-volume applications such as 20m/month whereas the 520 volume is 10m/month, Vandagriff added.
The Nexfinity electrophotographic digital press is being relaunched, and will feature in a new digital printing showcase at Kodak's Dayton operation in Ohio.
Kodak is majoring on the Nexfinity's flexibility and ease of use for digital enhancements, versatility in the range of substrates it can handle including 6pp via long sheet, productivity at up to 152ppm, and its perfecting accuracy.
There will be a price cut at the higher-end, too.
Asked about Kodak's approach to the Drupa 2021 exhibition, Continenza said: "We haven't thought about it. One of my rules of thumb is only deal with things that you know. Don't deal with things that could change.
"A lot of unknowns have come from Covid. We will deal with that [Drupa] when it happens. We're ready for it and we'll be prepared for it if it happens, but if it doesn't we're OK with that."