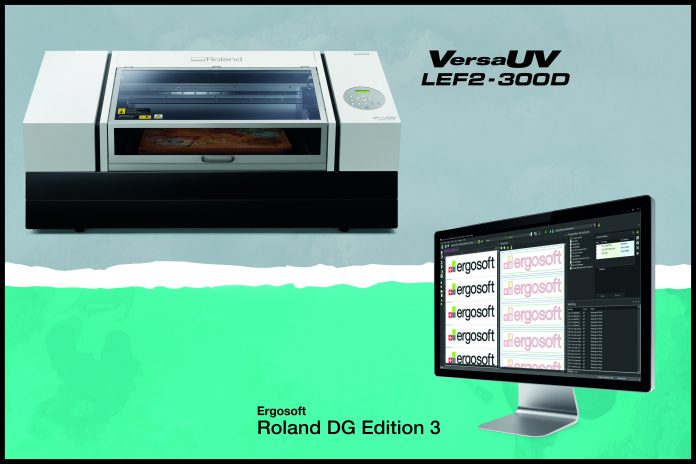 Roland DG announces two new products. The new VersaUV LEF2-300D has been introduced to enhance print possibilities, while the latest version of Roland's renowned RIP software – Ergosoft Roland Edition 3 – enhances the user-experience for Texart customers.
Discover the new potential of the LEF2-300D
First introduced in 2011, the VersaUV LEF series has proved incredibly popular, witnessing years of evolution to allow for larger bed sizes and finer finishing details. Today, Roland DG has released the VersaUV LEF2-300D, a new model with 200mm height, which not only supports taller items, but adds capacity for a wider variety of jigs, expanding the print potential on offer. The VersaUV LEF creates vibrant colour and realistic textures, allowing for on demand customisation across a range of products and substrates, including leather bags, shoes, phone cases and other promotional items and gifts.
Francisco Lozano, Product Manager Roland DG EMEA adds, "given the versatility of the VersaUV LEF, we've seen fantastic success stories from a range of users. They come not just from the print industry, but also from retail, manufacturing and other industries – many of whom previously only relied on screen printing processes, without a complementary digital device such as the VersaUV series."
Ergosoft Roland Edition
With a variety of new features and improvements, including a redesigned user interface for intuitive operation and enhanced user experience, the ability to quickly find and reach target spot colour, automatic spot replacement and overall improved user efficiency and productivity, this latest edition of Roland's RIP software is a perfect match for high quality textile printing. Existing Texart XT-640/RT-640 users who have activated editions 1 and 2 are eligible for a free upgrade between 24th March and 30th September 2020.
Part of the latest products being unveiled
Director of Business Development & Product Management, Roland DG EMEA, Paul Willems comments, "We're so excited to be able to finally introduce our latest developments, created not only to assist current users and printers, but also to inspire creativity and print potential for future use."

For more information, please visit rolanddg.eu.