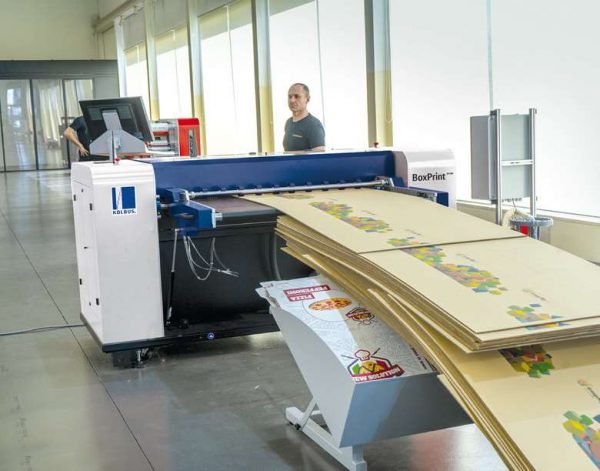 UK-based manufacturer of box-making equipment Kolbus Autobox has launched a full-colour, offline, flatbed digital printer for corrugated packaging.
The BoxPrint BP500 can print at linear speeds of 9m/min or 18m/min on an area up to 1,060mm wide, with maximum sheet width handling of up to 1,200mm. It can run board grades from micro-flute to double-wall with thicknesses from 1mm to 15mm.
Kolbus has launched the device aimed particularly at packaging distributors and sheet plants to enable them to add value and diversify their short-run box offering as the use of packaging as a marketing tool grows, according to sales director Simon Needham.
He added: "It can be used for runs from just a few boxes up to several hundreds. It is the perfect complement to our existing machinery portfolio and is supported worldwide by the Kolbus network of sales and service offices and approved distributors."
The device, which will be running live demonstrations at drupa in June, has a maximum print resolution of 1,200dpi and uses two-litre CMYK ink tanks, while its self-cleaning system uses vacuum and ionizing bar technology means sheets are pre-cleaned resulting in improved surface cleanliness and overall print quality. The PC-supported unit allows users to variable data software and alternative RIP solutions.
According to the firm, the BoxPrint BP500, unlike some other, off-line full colour printers for box manufacturing, doesn't need to be kept in a separate, atmosphere-controlled room and can be operated within the main box converting area.
Kolbus is taking orders for the new device. Price details are available upon enquiry.