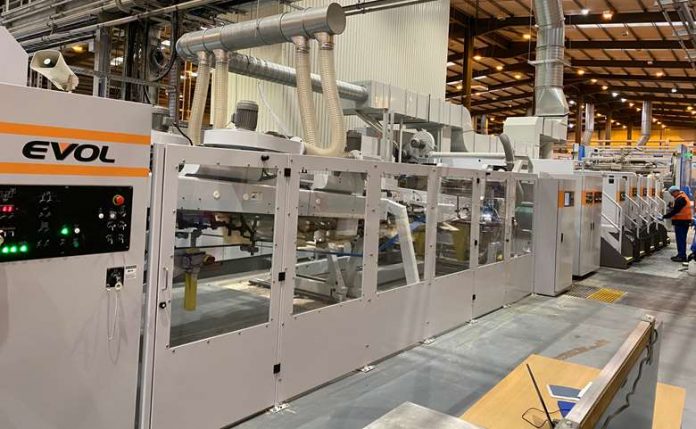 Rigid Containers has invested £4m to boost its boxmaking capacity with a new Mitsubishi Evol 100/350 line.
The flexo folder gluer was installed, along with peripheral kit including conveyors, pre-feeder and palletiser, at the group's Wellington, Somerset site days before lockdown. It replaced an ageing Martin 924.

The four-colour machine, which is a flexo press, die-cutter and folder gluer all-in-one line, can produce 21,000 blanks per hour. It can handle corrugated sheets from 250x690mm to 950×2,555mm in A, B, AB, C, D flutes and, according to Mitsubishi, offers sub two-minute set up times.
The 92 tonne, servo-driven machine is more than 23 metres long.

UK operations director Paul Barber said: "The installation was the next logical step in our investment programme at Wellington and ensures we can respond to the latest retail and e-commerce demands for sophisticated, sustainable printed packaging.

"This is a real game changer for Wellington and ensures we can deliver the highest quality printed corrugated packaging for all our customers."

The Wellington site has benefited from investments totalling around £17m over the past five years. Landmark spends have included £1.5m in a Bahmueller Turbox folder-gluer last March 2019, £5m in a Bobst DRO six-colour rotary die-cutter in 2017 and £6m in a BP Agnati Quantum corrugator five-years ago.

According to Barber the site has remained in production throughout lockdown, effectively operating normally, but with enhanced safety protocols including staggered shift start times to minimise shift handovers.
Rigid Containers is part of the €1.3bn (£1.2bn) turnover VPK Packaging Group, with sites in Belgium, France, Germany, Ireland, The Netherlands, Poland, Romania, Scandinavia, Turkey and the UK.

Rigid itself operates from factories in Desborough in Northants, Selby in Yorkshire and Wellington and also has a site in Limerick, Ireland.