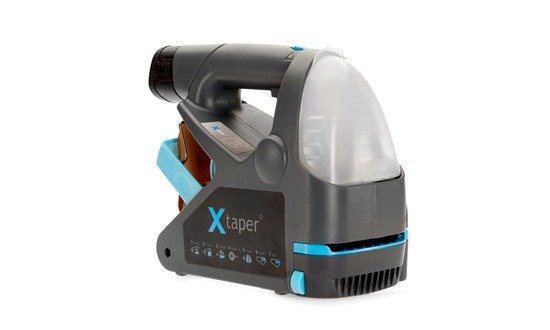 A new mobile taping solution has been launched which could make waves across the retail and industrial packaging sector.
The Xtaper is a battery-powered automatic paper tape applicator overcoming the limitations of desktop machines, and enabling box sealing operators to use paper tape as opposed to traditional plastic tape.
Created in conjunction with Carlton Packaging in Milton Keynes, Xtaper is a stand-alone brand targeting at packaging distributors and warehouse operators.
The Xtaper is said to provide a secure, degradable and recyclable seal on any corrugated box or carton.
Traditional static, often large, desktop machines can be tooled to provide paper tape but these are said to have their limitations because of the fixed machine location, costly initial machine price and the large cost bench space that's required.
The handheld dispenser is claimed to solve these limitations and enables paper tape to be used anywhere in the warehouse or packing line.
The dispenser allows both plain and reinforced paper tape to be used by operators wherever they need to apply tape to cartons throughout the logistics pick, pack and dispatch process.
Marcus Magee, director at Xtaper, said once the user tapes on to the box, the wet adhesive bonds with the paper, a seal which can't be broken without ripping it.
"It effectively becomes a tamper evident seal on the box. With even the best polypropylene tapes you can often slide your hand beneath the tape or carefully tear the tape off and put another piece on top."
The glue coating on the tape is activated by water which is applied by a patented system in the base of the mobile machine.
Magee said that using paper tapes has always meant the operative touching the tape after wetting it and getting their hands sticky. "We said there must be a better way of getting that tape on the box. And that must be a portable lightweight solution."
Alan Magee, senior packaging consultant, added: "Any company anywhere sealing boxes can use biodegradable tape. This is the world's first handheld paper tape dispenser. We have had companies from all over the world call us with interest in the product. X-tapper is looking for distribution partners around the globe."