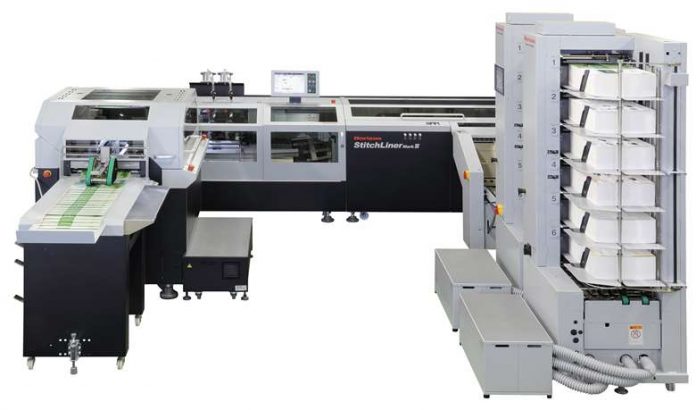 Lea Printers has installed a new Horizon StitchLiner bookletmaker as it looks to adapt its production capacity to support shorter runs and faster makereadies.
Joint managing director Paul Gill, who runs the business with his brother Tristan, said that while the trend towards shorter runs been around for a while, it had been significantly accelerated by the Covid-19 pandemic.
"We feel that there will be a lot of people in trouble and all the run lengths are dropping right down, so we've geared up for the shorter run work and faster makereadies, you don't need the big Mullers or the Hohners anymore for the type of work we're involved with," said Paul Gill.
As a result, the Orpington, Kent firm decommissioned its old Hohner and replaced it with the 6,000bph Horizon StitchLiner MKIII from IFS.
"We liked its ability to fold which removes the need for the separate process and saves time. It is also easy to set up so any operator is comfortable running it. We can complete a lot more short run jobs faster and that will enable us to expand capacity," said Tristan Gill.
The machine, which has a list price of around £170,000 depending on configuration, was installed in June.
It was configured with the new high capacity VAC-L600H collators, which feature 130mm deep trays rather than the standard 55mm trays on 10 station collators.
The new bookletmaker will be supporting output from the firm's B2 five colour plus coat Mitsubishi LS Diamond 1000 and two two-colour B3 Heidelbergs as well as its digital battery consisting of a Xerox Versant and two black and white HPs.
Under normal circumstances the almost 30-year old firm has seven staff, but with the majority currently on flexible furlough Paul Gill said "me and Tristan are wearing a lot of hats at the moment" and the StitchLiner's automation had come into its own as a result.
The firm works with a wide range of clients including blue chip brands such as Sony, London Stock Exchange, Grey Goose, Bollinger, Bacardi, and UEFA.