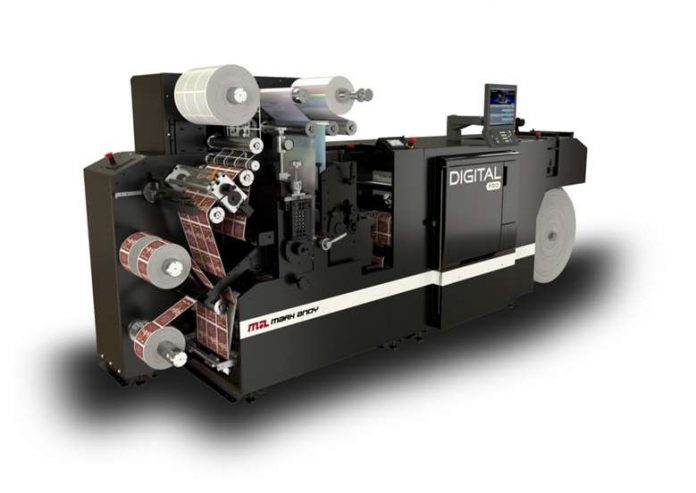 Midland Regional Printers (MRP) has invested a six-figure sum to bring in it its first dedicated digital label press to enhance flexibility as run-lengths shorten.
Installed at the firm's Nottingham factory in early July, the new Mark Andy Digital Pro 3 toner press is configured with CMYK plus white inline embellishment options including cold foiling, spot UV, die-cutting and laminating.
"We were really keen on having an all-in-one machine, as we know a few label companies that have had to buy two or three finishing machines to keep up with one label press. We just wanted it all in one, so it's straight on, straight off and out the door to the customer," said sales director Matt Seaford.
While it's the 80-staff firm's first dedicated digital label press, it joins an 85 A4ppm Konica Minolta Accurio C6085, which features the same imaging technology as the Digital Pro.
Seaford said the common technology was one of the draws of the new machine.
"We've been researching new digital label machines for some time now, meeting with all the major machine manufacturers," added sales and marketing director Kate Tew.
"The quality of the print was critical for us, we needed to ensure the press we committed to is well suited to the broad range of industries MRP currently supply from chemicals to high-end cosmetics. We are all very impressed with the quality, performance and technology from the Mark Andy Pro machine and it's surpassed our expectations."
The 23.4m/min label line offers 1,200dpi and can handle substrates including pressure sensitive paper, BOPP, PET and PP, PVC and unsupported paper.
The firm's 4,650sqm factory has a conventional label battery consisting of a pair of KDO flexo presses, a seven- and a six-colour, a brace of Focus Label Machinery F series flexo machines, a three-colour F150 and a two-colour F180 and two four-colour Focus letterpress machines.
"There's been a bit of a shift as people move to ordering labels in lower quantities more frequently, which digital is ideal for," said Seaford.
"We had been thinking about it for a while and decided to make the jump. More and more customers are now ordering labels when they themselves get an order, so if their lead time is a week that might only leave us three days – it's print on demand essentially because nobody wants their money tied up at the moment."
Like most businesses, the firm has made use of the government's furlough scheme on the packaging arm only in the early days of lockdown, but brought the staff back "fairly quickly".
However, despite that according to Seaford the business is "bucking the trend" and he said that he expected the firm's 19/20 financial year, which runs to October, might even outperform the previous year.
"All things considered though we're having a good year, there's been an uptake of existing customers doing well and new account coming on board, so we can't complain."