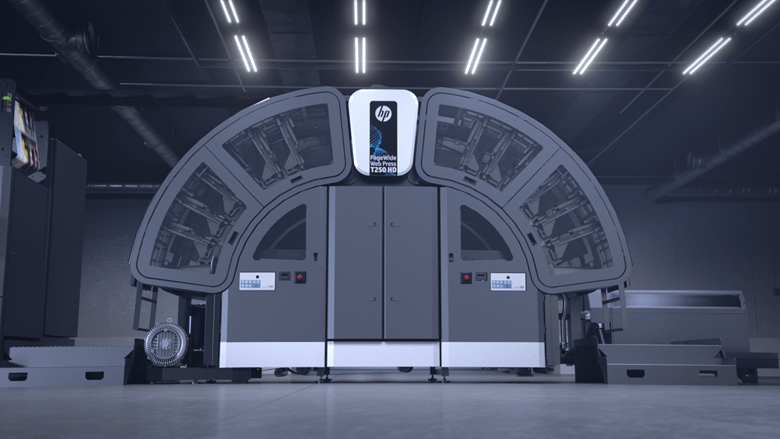 Solopress has bought the world's first HP PageWide T250 HD inkjet web press and will use it for commercial – and publishing – print applications as part of a radical £3.3m revamp of its production setup.
The press has already been installed at the firm's Southend site in T240 configuration, but will be upgraded on Monday (17 August) to the T250 spec with new printheads and Brilliant inks.
It runs at speeds from 76m-152m per minute, has 2,400dpi inkjet heads and can handle stock from 40-250gsm. The maximum web width is 558mm and it can print onto standard offset stocks as well as optimised 'ColorPro' grades.
Solopress currently runs sheetfed litho and cut-sheet digital presses, and managing director Simon Cooper (pictured below) said the move to web printing made sense because of the firm's job batching and fast turnaround ethos.
"One of the interesting things is that we're already aggregating jobs, and this lends itself to web as it's no different to creating a batch on a certain material type," he explained.
"We will just load up a 9km reel of a certain media, and set it printing with no stoppages, no makeready and no downtime. We will be printing and moving into finishing immediately. Orders go into the system and just queue up in the machine."
Solopress has been printing onto UPM Fine so far, but the paper range will broaden after the upgrade.
The investment includes a high-speed Hunkeler Generation 8 roll-to-cut/stack finisher.
"We expect massive reductions in waste and huge efficiency gains," he added.
He said he had been looking at inkjet technology for at least a decade, and the print quality had now reached "what's required for our customers".
"There's a mental jump in making the move from cut-sheet to web-based production. I had an epiphany in October last year and realised this can work for our business. Once you've done that the question is: is the quality at the level it needs to be? We did our due diligence and went to all the manufacturers.
"With this new inkset HP has taken a step forward," he added.
A second T250 is slated for installation early in 2021. The spend also includes two HP Indigo 7800 sheetfed digital presses that join two Indigo 10000 B2 presses installed last year.
"It takes nerve and bottle, but if ever there was a good time to improve underlying performance it's during a crisis," Cooper said.
HP PageWide inkjet web technology is also being embraced by parent Onlineprinters, which acquired Solopress in 2017.
Solopress is also upgrading its workflow to include HP Site Flow, which will be integrated with the firm's own workflow and MIS system to handle digital production.
Cooper said the re-equip has also allowed the business – which operates across multiple industrial units and had been considering moving to a purpose-built building – to improve the workflow across its existing space.
"By re-organising, we can take out nine or 10 machines and replace them with four. And we put print and finishing together again, whereas they were in separate units," he stated.
Three Xerox iGens and four old Speedmaster 74 five-colour sheetfed presses are being taken out, leaving the business with the three XL 75 presses and one SM 74 – the company's original 'solo press'.
"It's 20 years old but still does the job and is backup as much as anything," Cooper added.
The business will also target the new market of publishing during quieter periods outside of its busiest production period producing jobs for next day despatch.
"We have the capacity that we can offer to publishers using HP's Piazza platform, which routes jobs to the appropriate printer. It's a slightly different form of print-on-demand. Fast turnaround is in our DNA and we are opening up spare capacity to a different customer base," he said.
Solopress has launched more than 30 new products because of the Covid-19 crisis, from social distancing graphics to face coverings.
Cooper said that sales at the £28.6m-turnover firm were still around "30% down, year-on-year" because of the pandemic's impact on its customers.
"We've had some weeks that have been closer to 15% but generally around 30% at the moment. We've seen a steady and consistent improvement so would expect to be very close to prior year trading by the autumn.
"One silver lining is that as a result of our new product introductions, we have had a record week for revenue from new customers during this challenging trading period, which bodes well for the future."
Around 40% of the workforce are still on furlough, but Cooper said he hoped that would "change quickly".
The T250 would have been a 'Drupa deal' and would have been shipped to Solopress from Drupa, had the show gone ahead earlier this year.