The textile industry is a supplier and offers cross-sectional technologies for numerous industries. For example, technical textiles are processed as composites in high-performance ceramics, play an important role in health care and mobility, and see themselves as catalysts in sustainability projects.
Textile applications were already an important part of the exhibitor offering at drupa 2016 and will play an even more important role in the future.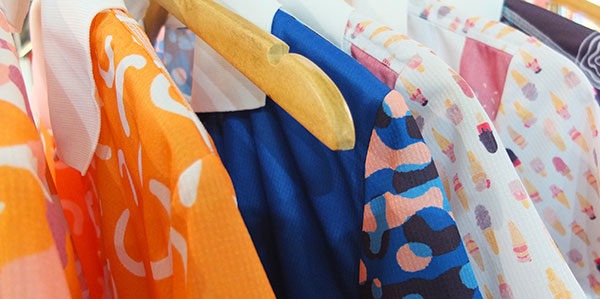 The continued advances in digitization and cross-sectional technologies act as motors for innovations. drupa sees itself as a motor for and initiator of changes in our industry and helps shape it. The touchpoint textile brings together companies from different industries, offers space for cross-sector cooperation, new projects and product and manufacturing ideas. We want to realize this through technologies and partners using the example of a Micro Factory in a special forum – the touchpoint textile.
In cooperation with the German Institutes for Textile and Fiber Research (DITF), the nucleus of the Digital Textile Micro Factory, we are designing this creative space.
The German Institutes for Textile and Fiber Research Denkendorf (DITF) conduct research and development along the entire textile value chain, from the molecule to the finished product and right through to the market launch, and also include business processes and models. This makes Denkendorf a unique location in the world for innovations in the textiles industry. Founded in 1921, the 25,000m2 research centre employs around 300 people and is Europe's largest textile research centre. The DITF works on interdisciplinary research and development projects in the fields of chemistry, materials science, process engineering, materials technology, mechanical and plant engineering and management.
Digital Textile Micro Factory: virtual reality, on-demand, individualization
The DITF have been pioneers in the establishment of micro factories for many years, have developed this concept in a variety of different showcases and product segments with reputable partners and have created their own micro factory infrastructure as a test environment. These prerequisites make DITF an experienced partner of drupa and offer an excellent opportunity to sensitize an international audience to micro factories. For the first time at drupa, DITF, in cooperation with partners from industry, will be showing a live Digital Textile Micro Factory and thus a fully networked supply chain – from the customer to the finished product – at touchpoint textile in Hall 4. The partners include exhibitors at drupa as well as cross-sector, innovative companies. The combination of agility, creativity, flexibility and realization is considered the driver for success.
We will demonstrate creativity, customer interaction, digital twinning, virtuality and networked production in a fashion line. The fashion industry is becoming more virtual, physical patterns can be visualized for customers in the context of on-demand processes and their integration in the micro factory shown via new possibilities for digitization and direct customer involvement.
New approaches combine 3-D clothing simulation with a more direct data transfer to virtual and augmented reality (VR / AR) – including onto own hardware (bring your own device) as well as the direct integration of digital textile printing and tailoring, color management and a networked clothing assembly.
Our micro factory opens up new business models, flexible and local production processes with small order quantities as well as a fast way to tailor-made clothing while at the same time taking current trends and customer needs into account.
These are trends that we want to focus on – thinking in new networks as drivers of innovation.