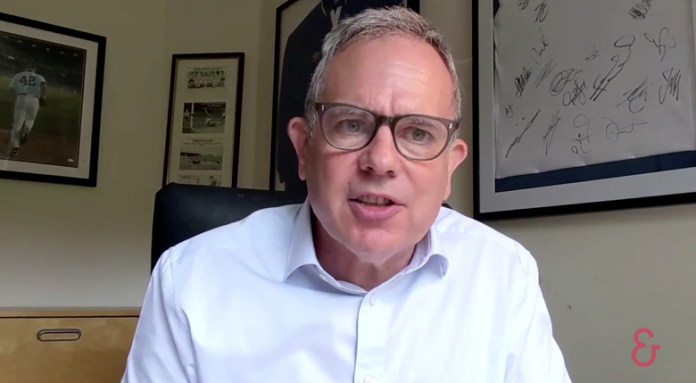 Koenig & Bauer Durst will begin beta testing the VariJet 106 B1 inkjet press at the end of this year.
Speaking at a Koenig & Bauer Live session earlier today (19 June), Robert Stabler the managing director of the joint venture between the two manufacturers, said: "We're really excited about the opportunities with the VariJet 106, because our customers are telling us that the compelling trends we're seeing elsewhere in packaging – shorter run lengths and the need to be more agile – are also happening in folded cartons."
The seven-colour, 6,000sph press uses water-based inks. Stabler said that the provenance of inks used for food packaging was likely to become "more important" in future due to issues around food security and food provenance.
Regarding progress made with the VariJet 106, he said: "The plan is we'll be moving into a beta phase at the end of this year, and starting the betas at the beginning of next year. There will be a full product launch of the VariJet 106 after Drupa in the mid-2021 timeframe."
Stabler also spoke about Koenig & Bauer Durst's products for the corrugated industry, and said that beta testing of the 6,000sph CorruJet 170 inkjet press at beta site Kolb in Bavaria had "just completed".
"That press is now fully-launched. It is for those customers that have exacting quality requirements. It produces exceptional print quality on a broad range of media."
The four-colour press handles media from 1mm to 8mm thick with a maximum sheet size of 1.7mx1.3m, and also has a flexo coating unit.
The firm is also planning some new features for the 800dpi Durst Delta SPC 130 single-pass sheetfed inkjet press for corrugated. It runs at up to 120m/min and is designed to run around the clock. The maximum format is 1.3mx2.8m.
"Today we have customers producing 15-20 million square metres a year consistently [on the SPC 130]. We have added a couple of innovations based on their requirements to broaden the applications they can address with the press," Stabler said.
A digital priming unit for uncoated media will be beta tested in H2 2020 with full launch early in 2021.
Special colours are being introduced for the fifth and sixth colour stations "to enable customers to meet special brand requirements".
Stabler said that industry trends that had been observed before the spread of Covid-19 had been accelerated by the pandemic.
"Run lengths are going to become shorter. We see the need for converters to become more agile and to become mass customisation specialists. Successful companies need to be able to embrace the trends that are occurring, and offer solutions to brand owners to help them meet those trends."
Stabler said the firm's product development strategy was based around the stringent requirements of the packaging sector.
"Converting environments run 24/7, seven days a week. And to be successful in those environments you need to have presses that are highly automated, highly productive, highly reliable with consistent print quality. And that is our number one focus. That for us is an absolute bedrock of our development strategy."
The VariJet 106 was originally shown as a concept at Drupa 2016, at the time with partner Xerox.
Koenig & Bauer subsequently went back to the drawing board, and the joint venture with Durst was formed at the end of 2018.
Following Heidelberg's decision to can its Primefire 106 B1 inkjet press, the VariJet 106, Landa's N10 and Komori's Impremia NS40 variant are currently the only B1 sheetfed inkjet presses on the market.