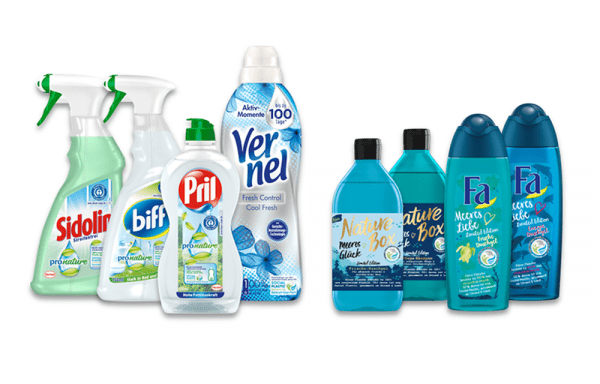 The number of cosmetics, washing and cleaning product packaging items which are made from recyclable material is growing. The recycled plastics are completely or partly made from pre-prepped PET bottles and other used materials or production waste.
SOCIAL PLASTIC: FOR NATURE AND FOR THE PEOPLE
In 2017, the Laundry & Home Care and Beauty Care department of the German consumer goods company Henkel brought bottles made of up to 100% recycled PET onto the market with its 'Loveables' range of products. Simultaneously, the company brought out a campaign called Social Plastic with the non-profit organisation Plastic Bank. People in low income brackets could collect plastic rubbish on the beach in Haiti and hand it in to the collection centres on the island. In return, they received money, goods or services. The plastic is then reprocessed by Henkel to create new packaging for cleaning and personal care products.
NEW MARKING REQUIREMENTS AND REGISTRATION PROCESS
In the long-term, the plans are that Social Plastic will be implemented for products from Vernel and Pro Nature and used in special editions from Nature Box and Fa. The proportion of Social Plastic used here will be between 25 and 50 percent.
Henkel plans to produce around 200 tons of Social Plastic in 2019. In addition, the company is aiming to bring only recyclable, compostable or reusable product packaging onto the market (with the exception of adhesive products) by 2025.
100% PLASTIC FROM YOUR RECYCLING BINS
The German chemical group Werner & Mertz, the Grüne Punkt and the Austrian company for plastics recycling the EREMA Group have worked together to produce the first packaging in the world made from 100% high-density polyethylene which is made entirely from plastic recycling waste.
This time-consuming process complies with the strict provisions in the EU regulation on cosmetic products: The requisite human toxicology certification confirms that using the packaging of "Frosch Senses", a shower gel, is acceptable in terms of health. This packaging is practically free from contamination due to a novel preparation technique for cleaning the granulate produced from our recyclables. In addition, the material was produced without leaving any microbead residue, is pH-skin neutral and has no odour, all very important elements for the skincare sector. The procedure has also been shown to save energy and was evaluated as "good" for the Pomegranate and Aloe Vera shower gels by German users of the consumer portal Ökotest. The Frosch Senses shower gel bottles made of PE-HD post-consumer recyclables (PCR) have been on the market since 1 May 2019.