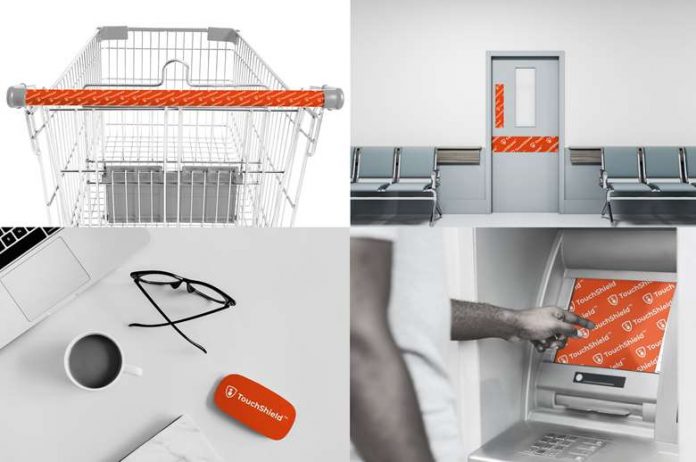 UK materials manufacturer G-Tec Paper & Film, part of Gardiner Graphics Group, is poised to launch a new range of innovative anti-microbial self-adhesive films and is looking to set up a UK distribution network for the  range.
TouchShield is designed to prevent the spread of bacteria and viruses within commercial and public spaces and retail environments. It features a silver ion, antimicrobial additive.
"Our anti-microbial coating offers up to 99% protection against bacteria and viruses. This tough, germ fighting top-coating, partnered with over 35 years of product development experience within the self-adhesive film sector delivers a totally unique range of products," said director and head of R&D for the company, Andrew Gartshore.
TouchShield conforms to ISO 22196:2011 antibacterial activity standard and is produced at the firm's manufacturing facility in Banbury, Oxfordshire.
The clear matt range currently consists of three products two watermarked protective films for applications including trolley handles, door push plates etc. and an non-watermarked over laminate film printed graphics and signage that features a high grab, permanent adhesive.
WPVC70 is a 103mic PVC protective film for surfaces with light curves or angles such as trolley handles and CPET50 is 83mic Polyester, protective film solution for flat, smooth surfaces with high impact usage including door plates and touchscreens.
For signage and graphics applications, the firm has LPVC70 a 103mic PVC high-grab laminate.
G-Tec hopes the range will be available through resellers by the end of the month.
Group managing director Will Duggins said: "We are incredibly excited to start discussing this unique range with all of our distribution partners and look forward to welcoming new opportunities in areas that these films can truly make a difference.
"We are currently in negotiations with various distribution channels and welcome any contacts with a direct route to market to get in touch to discuss opportunities."
Touchshield will be available to resellers in reels up to 1,524mm wide for conversion into smaller reels or sheets and features an easy-apply air release system to achieve a bubble free application.