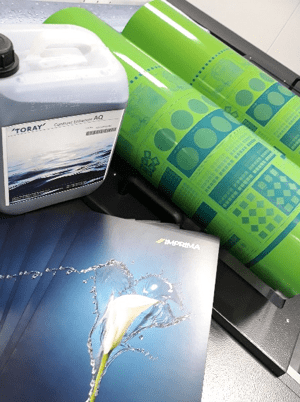 The most environmentally friendly product in the portfolio enabling excellent contrast
Toray, the leader in innovative solutions for waterless offset printing, has added yet another eco-friendly offering to its portfolio of waterless offset printing plate solutions. Toray AQ Contrast Enhancer, now commercially available, is an eco-friendly post treatment for waterless offset printing plates that enhances the contrast after CTP-exposed waterless plates. AQ Contrast Enhancer is specifically designed for the use with punch-bending – and sorting equipment that need plates with an excellent contrast.
"Waterless offset printing is the most environmentally sustainable method of offset printing, and now it is even more sustainable," said Mr. Noboru Kawanaka, Technical Manager of TTCE. "Historically, when contrast enhancement is required, chemicals have to be used, which is not only hard on the environment but also costly due to the difficulty associated with managing and disposing of them. Now with AQ Contrast Enhancer, no special handling or treatments are required since the product is 90% water and contains a small amount of a special liquid that is also used in the cosmetics industry. This further improves the value of waterless offset printing as more companies seek to reduce their environmental footprints."
Even though the after treatment of waterless offset plates, AQ Contrast Enhancer, can be drained to public sewers with no special handling required, it is better to check your local rules and regulations. While it is specifically designed for use with Toray IMPRIMA 'J' series waterless offset plates, it can also be used with the full line of Toray waterless offset plates when contrast enhancement is necessary.