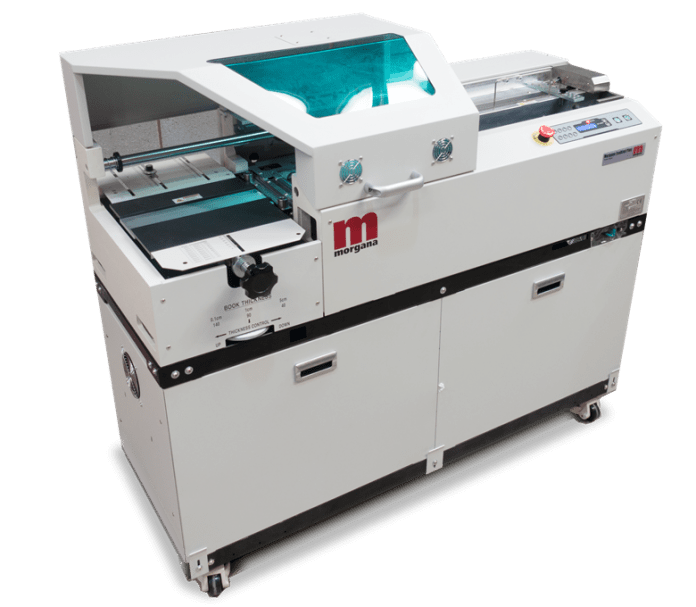 Morgana has installed a perfect binder at the inplant of one of the UK's highest profile institutions, to automate work that was previously done by hand.
The post-press manufacturer installed one of its EvaBind Plus perfect binders at Broadmoor Hospital in Crowthorne, Berks in early September, after the inplant team noticed a rise in requests for short-run booklets from its stakeholders.
The hot melt (EVA) machine was installed at the hospital's Occupational Therapy and Rehabilitation Services unit, which is managed by West London NHS Trust to produce booklets and reports for staff and patients.
Broadmoor is a high-security psychiatric hospital that assesses and treats men with mental illness and personality disorders who represent a high degree of harm to themselves or others.
It is one of just three high-security psychiatric hospitals in England and Wales.
As well as operating as an inplant for the hospital Trust, the unit's print equipment is used to help rehabilitate patients.
Venus Kan, clinical lead Occupational Therapy and Vocational Services, wrote to Martin Baggott, technical support expert at Morgana, to say how pleased her team was with the kit and support.
"Your service was faultless and we really appreciate the communications we had with you. Additionally, I would like to thank you for your help and support when we came across a minor technical problem. My staff have commented how patient you were with us and then you took into consideration our staff and patients' needs prior to giving us advice.
"Our patients and staff will now be able to provide a better printing service to our Trust."
The EvaBind Plus has a maximum speed of around 240bph, and can produce booklets up to 50mm thick in formats up to 320x220mm.
The Trust opted for the Morgana device following a competitive tender process.
According to Kan one of the key considerations was the health and safety regulations at the unit, which effectively ruled out booklemakers that used staples.
"Safety is critical here. The unit was preferred to other solutions because glue is used rather than staples. With the new binder we would hope to be able to attract more NHS work for our small but very capable department."