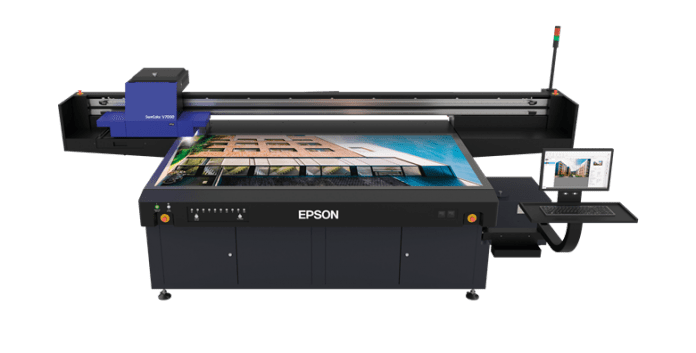 Epson is poised to enter the wide-format flatbed and roll-to-roll resin ink, more frequently dubbed latex, markets with two new machines set to launch later this year.
While the Japanese manufacturer is playing many of its cards close to its chest, it said the SureColor SC-V7000 UV flatbed will run a 10-colour inkset: CMYK, light cyan, light magenta, grey, red, white and varnish.
Set to be available from November, it will be capable of producing prints up to 2.5×1.25m on substrates up to 80mm thick. Other features a four-zone vacuum bed, registration pins and an ionizer to reduce jetting inaccuracies.
Epson UK Pro Graphics product manager Tom Owers said that the SC-V7000 had been "designed with the customer in mind".
While pricing was not disclosed, he hinted that it will be priced competitively: "This is a robust and affordable UV LED flatbed signage printer capable of fast and quality printing on a wide range of media. The SC-V7000 proudly marks Epson's entry into the UV flatbed signage print market."
Coinciding with the announcement of firm's first flatbed, the Japanese manufacturer also unveiled an expansion of its Eco-solvent and UV roll-to-roll portfolio with its first machine to run resin inks.
The 1.6m wide SureColor SC-R5000 uses the firm's established PrecisionCore Micro TFP printheads, which are operator replaceable.
The machine's water-based resin inkset is similar to those used in HP and Mimaki latex wide-format printers, where pigments in the ink are dissolved by resins in water instead of solvents.
It will be available in December, a month after the SureColor SC-V7000.
While the SC-R5000 is Epson's first wide-format machine to use the ink type, it has several years' experience of the technology which is used in its SurePress AQ inkset for its Surepress L-4000 series label presses.
However, the six-colour SC-R5000 wide-format printer runs a new UltraChrome RS inkset. Configured with three heating stations, pre-heat, platenheat, and post-cure heat output is ready for near instant post processing as there is no outgassing required.
It comes with Epson's Advanced Auto Tension Control (Ad-ATC) for dimensional stability required for tiled work such as window displays and wall coverings and can be configured with a bulk ink option, available on the SC-R5000L, which features for 1.5 litre ink pouches for medium print volume outputs and a "hot-swappable" twin ink set for high print volumes.
Owers said that like the flatbed SC-V7000, the SC-R5000 was based on customer feedback.
"We have listened to our customers and understood the demand for quality, productivity, reliability and stable colour performance within the resin ink market. With the introduction of the SC-R5000, we are now able to meet all of these demands."