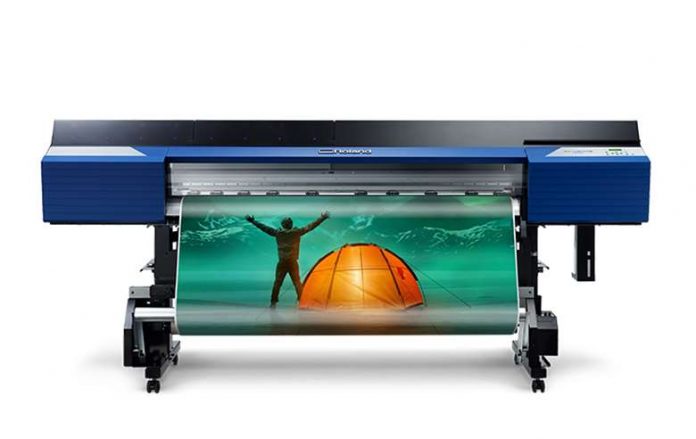 Roland DG has expanded its TrueVis range with a new print only printer designed for high-end applications.
According to Roland DG, the new eco-solvent TrueVis VF2-640 offers "incredible colour reproduction and outstanding performance" on applications including signs, backlits, posters and vehicle wraps.
The 1.6m-wide, 1,200dpi roll-to-roll printer can be configured with up to eight colours and joins the VG2, which was launched last year, and the four-colour SG2 ranges in the TrueVIS portfolio.
Running Roland's Greenguard Gold-certified TR2 inkset, it can use CMYK plus a choice of light cyan, light magenta, light black, orange, green, or white. In "standard mode" it's capable of 30.4sqm/hr in four colours and 12.3sqm/hr in seven plus colours.
"The TrueVis VF2-640 is an exciting addition that will elevate the work of sign businesses and print service providers. As a print-only device the VF2-640 offers ultimate flexibility to users who may want to upgrade their existing printer or invest in just the technology they need," said Paul Willems, director of business development and product management, Roland DG EMEA.
"For a host of applications, the TrueVis VF2-640 will push production to the next level while delivering astonishing colours. The addition of green, as well as orange and white, really does allow the creation of stunning graphics."
The TrueVis VF2-640 is available immediately and has a list price of £14,999, including the VersaWorks 6 RIP.
Options include the DU2-64 heater and blower and the TU4-64 automated take-up system.