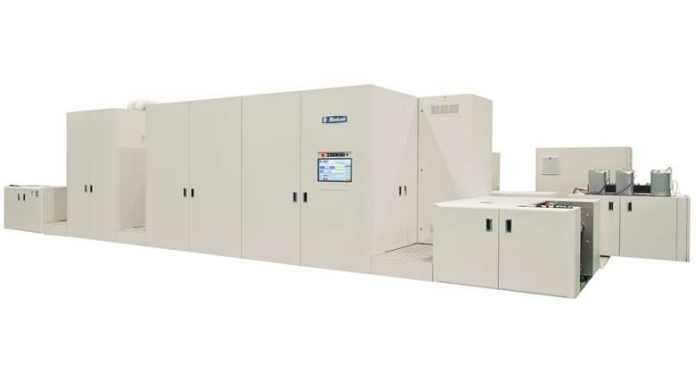 Japanese manufacturer Miyakoshi has set its sights on toner and analogue platforms with the launch of a new high-speed inkjet press targeted at flexible packaging applications.
The MJP30AXF has a maximum web and print width of 790mm and 750mm respectively and is capable of 50 linear metres per minute. Running 1,200dpi Kyocera heads it's configured for CMYK plus double hit white and runs a waterbased pigment inkset from a third party that has been approved for food applications.
The simplex press features automatic registration control, nozzle dropout compensation and can handle media thicknesses from 12 to 100 microns. Standard configuration includes an unwind unit, inline Corona and pre-coat unit and rewind.
A company spokesperson confirmed it was Miyakoshi's first press targeted at the flexible packaging market: "MJP30AXF was announced and did a live demo at IGAS 2018 in Tokyo and [since then we have] completed the developments to be ready for sale now.
"We have been in the data printing and commercial market for around 15 years with OEM and launched a label inkjet digital press, MJP13LXV at last Labelexpo 2019."
While Miyakoshi supplies high-speed inkjet print engines and wind and unwind units to a number of OEM partners, it will handle sales of the MJP30AXF directly via its European operation, Miyakoshi Europe in Spain.
According to the spokesperson, the USPs of the MJP30AXF are its environmentally credentials, thanks to the water-based pigment inks; high productivity; high-resolution, down to 4pt text ,and its ability to offer "continuous printing of different jobs on one single web".
While pricing is only available on application, the MJP30AXF is available immediately.