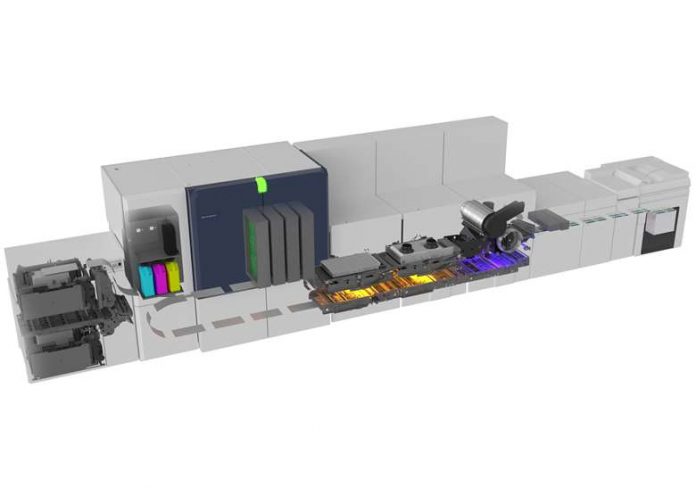 Xerox production print chief Marybeth Gilbert said the firm would fight to retain its number one spot in cut-sheet inkjet as it unveiled a range of new products including an upgrade for the Baltoro that made it "a true play against offset".
Gilbert is vice president and general manager of Xerox's production print business, and has just announced the new Color Accelerator module for the B3, 300ppm Baltoro High Fusion inkjet press platform at an online product launch.
She said that the enhancement was in line with Xerox's focus on driving three key customer benefits: business expansion, investment protection and productivity.
"It's business expansion because now you can go with higher ink coverage on more media, grabbing those Holy Grails of offset coated and higher gloss. And it's business expansion because you can go into direct mail and catalogues, more of the bang for the buck applications beyond transactional and transpromo," she stated.
Gilbert said productivity was also increased thanks to ease of setup, with the image IQ system and method of purging the printheads resulting in less wastage, along with its primer-free High Fusion inks.
At the product launch Xerox said it was "redefining inkjet again" and described the benefits as "inkonomics amplified".
Existing users can field upgrade to the new spec, but Gilbert said she anticipated that customers would probably add another Baltoro with the new features.
"It's also a great migration story, and a true play against offset with cut-sheet inkjet," she stated.
Xerox claims the top spot in B3 inkjet, but faces fresh competition from rivals including Canon and Kyocera.
"We have a number one market share in cut-sheet inkjet. We're very proud of that and have no intention of giving it up," Gilbert told Printweek.
"In cut-sheet inkjet and the Baltoro line we own the blood, guts and brain of that press so if anyone is going to push the limits here it's Xerox."
Baltoro with Color Accelerator has seven additional lamps to double drying capacity, with the output described as "photorealism".
She said the first customer installs would be in Q1 2021, and Xerox had already been running customer sample files on the upgraded device.
Also new is a feeding kit for extra-long sheets on the Xerox Iridesse toner-based digital press and a fluorescent pink option to add to the existing special colour set. This will be available from March 2021.
"Fluorescent pink can be added on its own or mixed with silver and gold to make a metallic, but it's also going to give you a bump on your spot colours so it's going to make your Orange 021 pop more or make your Reflex Blue pop more, and it's also going to give better skin tones as well," explained Andrew Gunn, global director of production marketing.
Two new Versants handle mid- to heavy production loads. The Versant 280 and Versant 4100 both handle thicker stock up to 400gsm, opening up applications such as postcards, and Gilbert said that all stocks would run at rated speed.
The entry-level, compact VersaLink C8000W with white toner was described as "the most affordable entry point into the embellishment market".
Xerox also aims to improve productivity and efficiency with a new cloud-based AI system, PredictPrint Media Manager, which is included with the Versant 4100 and optional for the Iridesse. Users scan the barcode on the media being used and the software will identify the correct settings for that substrate. Users can also upload their own settings.
FreeFlow Core 6.0 workflow automation software now incorporates 'Beyond CMYK' colour options and can "seamlessly apply embellishments" using pre-built workflows.
Xerox also aims to help its customers price and sell added-value print options with its Genesis business development initiative.
"We are giving people the tools to be successful with beyond CMYK," Gunn added.
Gilbert emphasised that the monochrome market was still big business for Xerox customers, with more than 35bn mono prints produced on Nuvera presses last year.
Uprated MICR (magnetic ink character recognition) print speeds are "the highest in the market".
"Customers still need to driver Nuvera presses and Xerox stands by you," she said.
Gilbert said all of the announcements revolved around "business expansion, productivity, and investment protection – they're all equivalent pillars in our eyes."
Some 1,600 attendees from around the world joined the online event on 18 November.