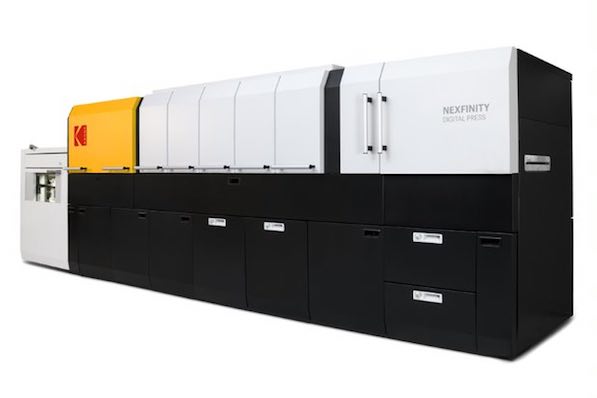 By Jeff Zellmer, VP Global Sales & Strategy, Eastman Kodak Company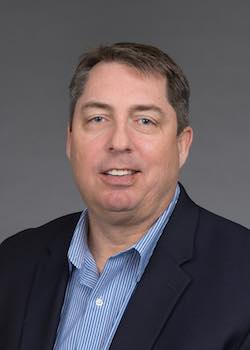 Print service providers who can say "yes" to virtually any job are at an advantage today. The KODAK NEXFINITY Digital Press puts printers in precisely that position. NEXFINITY stands as a compelling solution for printers seeking a robust, flexible, effective sheetfed digital color press. It delivers running costs competitive with medium-run offset andprints up to 400% more pages per month than competing sheetfed digital presses.
Raising the Bar in Terms of Print Quality and Consistency
The NEXFINITY Digital Press is designed for maximum throughput with production speeds up to 152 A4 pages per minute. It operates with unique same edge perfecting, which ensures best front-to-back and side-to-side registration of the printed sheets. Printing at 1,200 x 1,200 dpi in the Ultra configuration, the press leverages Kodak's Dynamic Imaging Technology with 256 levels of density per pixel. Dynamic Imaging Technology automatically optimizes images in real time using proprietary computational screening algorithms that are applied as needed, even to small areas within images. Together, NEXFINITY's high-resolution imaging system and sophisticated screening algorithms tighten control of dot sharpness, boosting quality and consistency over long runs. All these features enable NEXFINITY to deliver an excellent, consistent color print quality that rivals, or even surpasses, offset and helps printers increase customer satisfaction.
Profitable CMYK Plus a Wide Variety of Digital Enhancements
The press supports an exceptionally versatile range of substrate types, substrate thicknesses (max. 24 pt/610 microns) and sheet sizes (max. 356 x 1,295 mm when equipped with a long sheet deep pile feeder). It also provides an unmatched range of digital print embellishment options in its fifth imaging unit. NEXFINITY owners can choose from 12standard fifth imaging unit solutions for inline digital print enhancements including specialty inks, plus custom spot colors and matte and gloss finishes. Among these diverse options are Red, Green,and Blue as additional colors for expanding the color gamut; Dimensional Clear Dry Ink for tactile dimensional printing; Clear Dry Ink to give a fully or partially transparent topcoat; Gold Dry Ink for attention-grabbing gold effects; Metallic Clear Dry Ink, which achieves metallic effects such as silver, bronze,and copper or simulates pearlized stocks; and Opaque White which delivers superior opacity in a single pass and enables stunning applications on transparent or colored substrates. With these unique imaging effects printers canenhance theircustomers' communications and secure more high-revenue jobs.

Digital Front End for More Job Processing Efficiency and Optimized Productivity
NEXFINITY's Digital Front End (DFE) utilizes the Adobe PDF Print Engine (APPE) and is designed to exploit the many features of the press with an intuitive interface that streamlines time to press. It features flexibility for being operated as a complete standalone prepress station, with imposing, trapping, color management, job specification,and job management and reporting capabilities. Furthermore, the DFE supports an automated workflow using JDF and JMF which are compatible with a variety of workflow solutions, including Kodak's industry-leading PRINERGY Workflow. Fast ripping of short-run, image-intensive applications, as well as complex variable jobs keeps the NEXFINITY Press highly productive.
The optimal productivity and production availability of the NEXFINITY Digital Press are additionally achieved courtesy of the Operator Replaceable Component model, which empowers a printer's staff to maximize uptime by keeping the press in peak-performance shape and performing maintenance independently without waiting for a service engineer.
These NEXFINITY capabilities produce the most extensive range of high-quality, highly customized jobs. Typical applications for the press are marketing collaterals (brochures, sales kits, business cards), direct mail (mail collateral, postcards, transpromotional documents), short run publishing (books, manuals, coffee-table books), photobooks, calendars, catalogs, manuals, POS materials (signs, counter displays, shelf tags, end caps), and even packaging (folding cartons, labels). And thanks to NEXFINITY's enormous versatility, printers can respond to new market trends and increase their sales at any time by adding more applications to their portfolio.
How Printers Notch up Successes with the NEXFINITY Digital Press
NEXFINITY makes a perfect complement for offset printers and/or digital service providers who want to extend their portfolios with high margin, creative applications and offer a quicker service, as users specializing in different areas have confirmed. Impressions Printing, for instance, recently became Canada's first print shop to introduce a NEXFINITY Digital Press. When questioned about his reasons for choosing this particular press, Cory Stuart, President of Impressions Printing, replied: "We were searching for a solution that could help us further differentiate on speed and quality, and NEXFINITY has allowed us to increase our output volume while enhancing customer satisfaction."
In Germany, calendar producer Eckenfelder has shifted a significant share of its print volume from offset printing to the NEXFINITY Press. Managing Director Daniel Eckenfelder says: "We want to be capable of producing everything in digital, with no technical restrictions to constrain us. We were looking for a press that can take the place of offset. With NEXFINITY, practically anything goes and it's an exceptionally smooth-running digital press."
And at L & D Mail Masters of New Albany, Ind., the NEXFINITY has resulted in a huge leap in printing capacity. "The main reason we switched to Kodak is reliability, in terms of both color and uptime. We're running the NEXFINITY Press 24 hours a day and it's performing extremely well," comments the company's President and CEO Diane Fischer. "We run anything from 60-lb. text up to 110-lb. text, and cover stocks ranging from 80 to 110 lbs. The flexibility of this reliable workhorse is really unbelievable."