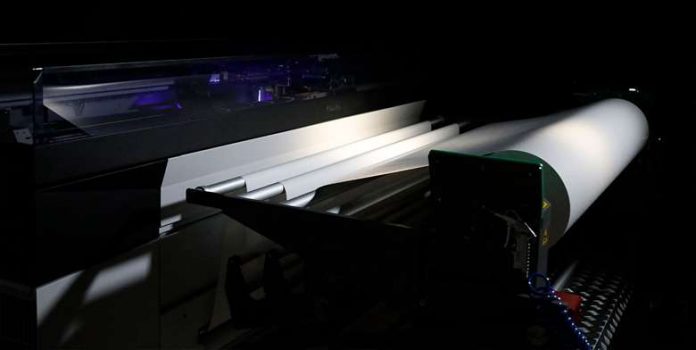 Canon has partnered with wide-format finishing kit manufacturer Fotoba to open up wallpaper revenue streams for new and existing Colorado users.

The UVgel Wallpaper Factory, which was released earlier this month, is comprised of a motorised Fotoba Jumbo Roll media loader which feeds into a 1.6m-wide, four-colour Colorado roll-to-roll printer, which runs Canon's patented UVgel inks.
The printer is connected to the Fotoba Cutter XLD 170WP and Rewinder REW 162 to automatically cut flexible media to custom sizes, which are then also taped inline.
Dirk Brouns, vice president of large format graphics at Canon Production Printing, said: "Our customers repeatedly tell us that our UVgel technology is enabling them to explore new growth opportunities in the interior decoration market.
"That's why we've developed the UVgel Wallpaper Factory in partnership with Fotoba."
Even when configured with the Fotoba unwind/wind units, the two media drawers of the Colorado remain accessible for regular, commercial print jobs.
According to Canon, the waterless UVgel inks are well suited to premium wallpaper applications thanks to their ability to gels on contact with the media, resulting in a precisely positioned dot with minimal gain and virtually no satellites.
The UVgel Wallpaper Factory is available as a complete system for new customers, or as a field upgrade for existing Colorado users looking to expand their addressable applications.
"The highly automated workflow solution enables our customers to print exceptional quality wallpaper in quicker turnaround times, helping them to expand their offering in this market," said Brouns.
"From customer feedback to date, we're confident that this is a game-changer for high-volume digital wallpaper manufacturing."
Earlier this year, Canon opened a new central production facility for its UVgel ink after production volumes doubled in the past year to keep up with demand.