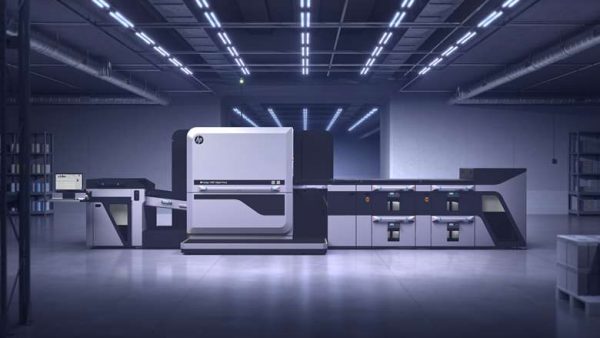 HP has unveiled the "most exciting launches in the history of HP Indigo" and revamped its range of B2, SRA3 and web-fed production presses, which offer across the board productivity boosts, and given a taster of the next evolution of its technology.
"2020 is an exciting year for HP Indigo. The new press portfolio is taking digital print to the next level and with less than 100 days until Drupa, we cannot wait to see the reaction to the new line-up," said Peter Jolly, UK and Ireland country manager for HP's Indigo and PageWide web press business.
"Our investment in R&D has always kept us at the forefront of the market, and these are our most exciting launches in the history of HP Indigo."
Taking centre stage among the Series 5 products unveiled in yesterday's pre-Drupa briefing was the HP Indigo 100K, a B2 liquid toner press targeted at high-volume applications that is capable of 6,000sph and a monthly duty roster of 1m duplex sheets.
According to Alon Bar-Shany, HP Indigo general manager, HP went "back to the drawing board" for the high-productivity 100K, retuning the engine to offer a 30% speed and 50% productivity boost while maintaining the same image quality so that it "seamlessly integrates into litho environments".
It features offset-style gripper-to-gripper technology and a redesigned paper path to reduce jams, inline colour calibration, five source feeder and machine learning cloud-based maintenance programmes for 24/7 operation.
"We believe the 100K will run 100,000 B2 impressions per shift predictably and reliably for many, many years and can generate 12 million duplex sheets a year," said Bar-Shany.
Beta machines were rolled out last summer.
Speaking yesterday, Bar-Shany also revealed eight other Series 5 siblings of the 100K.
The revamped portfolio includes the 4,600sph B2 HP Indigo 15K seven-colour press, which is targeted at premium commercial applications. It is based on the 12000 with upgrades including the ability to handle a wider media range, up to 600mic, and 1,600 dpi and FM stochastic screening in HD configuration.
"The feedback from our customers was to take something that is working and make it better, and by better they meant give us additional applications, improve the print quality, and thirdly improve the automation and the robustness of the press," said Bar-Shany.
Its SRA3 range has been bolstered with the HP Indigo 7K and HP Indigo 7eco.
The 7K offers a broader substrate range and wider inkset, including the ability to produce heat transfer images, while the 7eco has been designed for more entry-level users as a gateway to HP Indigo technology.
"We heard from customers that not everyone is ready to jump into the digital space with a fully featured, seven-colour press with all the complexity of [being able to run] different inks, media and plastics etc," said Bar-Shany.
To this end, the stripped-back HP Indigo 7eco, which he described as a 'my first Indigo' concept, doesn't feature One-shot technology or thicker substrate capabilities and rather than seven colour units it offers a four-colour base configuration, expandable to five for special colours.
Meanwhile, it's new range of web-fed units include the HP Indigo 6K label and flexible packaging press. According to Bar-Shany it takes the proven features of the Series 3 label presses to "the next level" with new brand protection/security features and the addition of technology such as Indigo Spot Master, which uses an internal X-Rite system and workflow and DFE enhancements to hit any spot colour within three minutes and three metres of waste.
The same features are available on the twin-engine, high-productivity 8K label press, which replaces the 8000.
Spot Master is also on the HP Indigo 25K flexible packaging and label press, which is now available with additional inline pouch converting kit.
In its cartonboard portfolio, HP has two new presses: the sheetfed Indigo 35K, which has Spot Master and a redesigned paper path, feeder, priming unit and a new Tresu coater and optional HD imaging and a new B1 reel-to-sheet press.
The digital giant has also updated its B1 reel-to-sheet offering with the new HP Indigo 90K, which opens up new applications beyond its carton board heartland to specialty applications including wallpaper and photo-quality posters.
"We believe that with all of these new presses, we will bring new capabilities that will drive growth for this industry," said Bar-Shany.
He added that current users of the majority of Series 4 devices can upgrade to Series 5 specifications with retrofittable 'value packs', which are available "today".
While all Series 5 machines will be commercially available from Drupa in June, or shortly afterwards, Bar-Shany also used yesterday's webcast, which replaced a media briefing in Israel that was curtailed by the global Covid-19 outbreak, to reveal the first machine in what he described as the revolutionary Series 6 platform.
The HP Indigo V12 Digital Press uses the same core Liquid Electrophotography (LEP) technology, but benefits from an entirely new design, which HP believes matches analogue productivity.
The first machine in the new generation will be a 12-colour narrow-web label press capable of 1,600dpi and running a 340mm-wide web with 5.33m repeat.
Configured with what HP has dubbed LEPx architecture, it features inline priming and uses six inline imaging engines and a central blanket, instead of the conventional central impression drum, to offer 120m/min in six-colours on substrates from 12mic film to 450gsm board.
The technology has been tested in R&D for the past two years and four machines are currently being built, with two expected to be running at Drupa. However, the V12 is not slated for commercially availability until 2022.
According to Bar-Shany, while HP is targeting the first machine in the V series at label applications he said: "The press is amazing, the technology is amazing… the current focus is labels.
"But this is the first time that we are launching a platform starting with the label press and not a sheetfed, but as we learn more from our customers and get feedback from our partners, we will look at where we take the LEPx technology next as clearly we're not going to stop at labels".
At Drupa, HP will be showing more than 30 machines running in live environments in hall 17, from Indigo, PageWide and wide-format. It is the show's largest exhibitor.